Meeting Room Booking Management Software
Are you tired of the troubles in the office space that arise from inefficient meeting room management?
If so, you need a space reservation system that is professional, easy to use, and hassle-free. Joan makes meeting room management simple and flexible!
With the right meeting room booking management software, you can create a better, more streamlined office atmosphere for all.
Why You Need A Meeting Rooms Management System
We all know that in this high-tech day and age business meetings are often hosted online. However, many employees miss the social interaction that comes with in-office work.
Distractions and a sense of isolation run rampant when employees work and attend meetings from home. It's also easier to network, ask questions with immediate responses, and maintain accountability with a face-to-face connection.
But you'll also know that in-office meetings can be a major hassle to organize and manage. Different groups and teams may need rooms at the same time and it can be difficult to keep track of who has booked a specific room and when. This easily results in double bookings or some rooms being underutilized.
A good meeting room booking and management system makes these troubles a thing of the past!
The Joan meeting room scheduler system helps you keep your meeting rooms organized without any effort. It's effective, easy to use, and customizable to your business's needs.
Joan lets you see which conference rooms are available and which are occupied at any given time. This way, your employees can easily and conveniently book or reserve an open meeting room whenever they need to.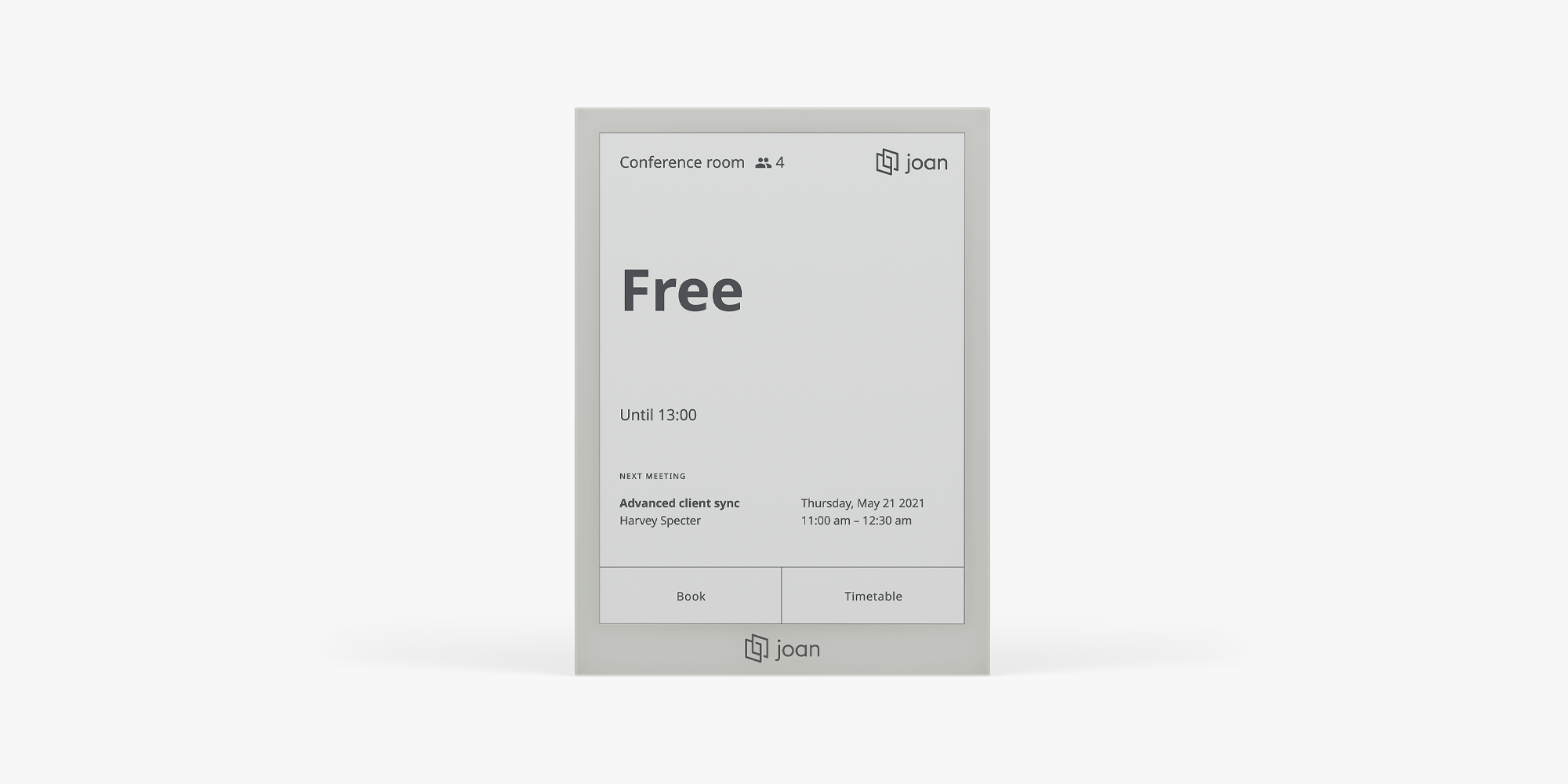 Benefits Of Meeting Room Booking Management Software
Doesn't a simpler, smoother option for meeting room management sound exciting? We know you'll breathe a sigh of relief as you notice the reduction in conflict and stress once you get started with Joan.
Through the Joan device or the app, you can see immediately which rooms are available and which are not for simplified conference room bookings. Our space reservation system is super simple to install and use so that you can reap the benefits in no time!
Easy Booking
Joan doesn't require any special technical expertise if you're worried about that!
It's easy to install and easy to use, and the onboarding process is quick. The Joan space reservation system is simple to set up (including room names and language settings) and is extremely user-friendly. It has a minimalist, slick, and clear design, and works purposefully.
Previously complex conference room booking has never been so simple and intuitive. Just a few taps on the touch screen to choose your room and your time, type in your meeting title, and away you go!
Battery-powered
Joan's scheduler is battery-powered, meaning you don't need to invest in any additional infrastructure or wiring. Simply mount it with the self-adhesive Joan magnet on your meeting room door or wall, place the scheduler on it, and you're all set!
Joan can last up to a year without recharge with its ultra-low power architecture!
ePaper
In addition to having low power consumption, Joan's monochromatic ePaper display blends seamlessly with any workplace aesthetic. This maintains the ambiance of your office.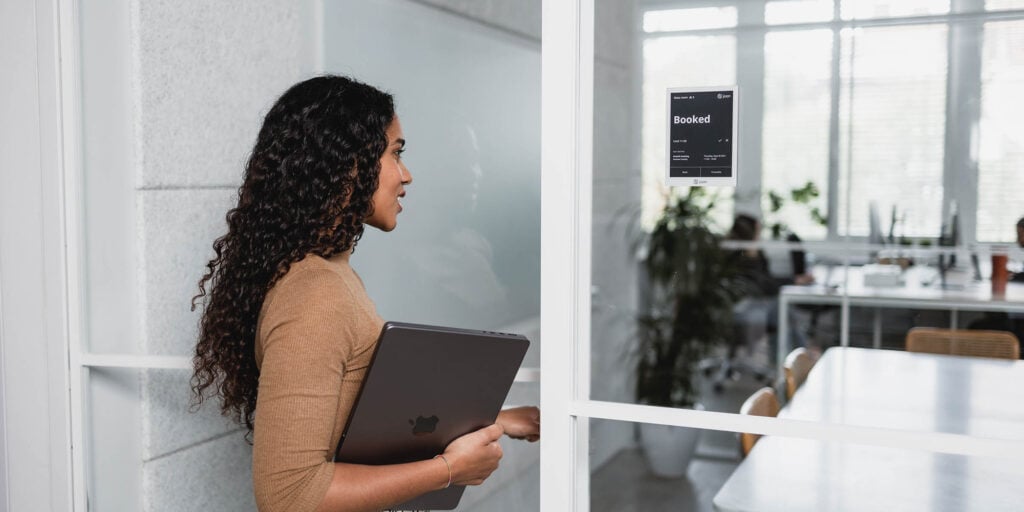 Better Room Utilization
Manually tracking meeting rooms can be a tedious task and it's very easy to make errors. Someone forgets to make an update that they have canceled a meeting and a conference room is no longer in use…and precious time and space are wasted.
Joan allows for better utilization of all conference, interview, and training rooms since everyone is linked to the same room booking system. Everyone can access updates on conference room availability and unavailability at any time so that your office can make full use of all available rooms.
Streamline Meeting Organization
Joan can promise no more time-consuming booking arrangements and no more human error or forgetfulness. Your busy front desk or office manager will thank you for eliminating a task that can now be easily handled by other employees.
Joan is extremely user-friendly, streamlining meeting room management and bookings in record time!
No More Double Bookings
We're sure many of you have experienced that knock on the door when you're in a meeting and it's a colleague wondering when you'll be done with the room or saying that they're actually booked the room for this time. So, what do you do here? Your crucial workflow has been interrupted and one group has to make a different plan.
With Joan, this scenario will never happen again!
All company members are connected to the same database so you'll have no more overlaps in bookings. Employees can see when spaces have been booked and what other rooms are available.
Make Space Reservation Simple With Joan
Simple, efficient, and organized should be the name of the game when it comes to conference room reservation systems.
Joan is the perfect hybrid of software solutions and hardware interfaces to enable these important aspects of space reservation.
Check Conference Room Availability
Joan is easily accessible to all. Employees can spontaneously decide over coffee in the office kitchen that they need to have a proper sit-down discussion about the topic at hand. They can whip out their phones and view conference room availability for a formal or informal meeting clearly. Or, they can check meeting room availability on the calendar directly on the Joan scheduler device at the meeting room.
Either method enables them to book a room within minutes and invite any other colleagues virtually.
Connect Your Calendar
Joan is a meeting room planning software that automatically syncs to any other apps your company uses.
But more importantly, it connects to each employee's personal calendar choice. These include Suite, Office, Exchange, iCalendar, 25Live, and EMS.
No additional apps or software are necessary – Joan is a space reservation system that does it all!
Share Meeting Details
Share and update any meeting details when connected to the Joan app platform. Joan encourages transparency and prevents opportunism due to its information-sharing properties.
Make other colleagues aware immediately of any extensions, cancellations, and meeting closures at the tap of a screen. You can make these changes quickly and easily on your mobile device from the Joan app.
Other details such as meeting length, name of the booked conference room, and the title and context of the meeting are displayed for all to see on the app.
Oversee Bookings From Your Mobile
Being able to manage operations from your mobile device is vital nowadays. It's convenient as you can do it from anywhere since you almost always have your phone on you!
We have leveraged this by making the Joan room management software available on iOS and Android mobile phones.
Book a meeting room and track information about your booking from anywhere you find yourself. This can be anywhere – in the office, at home, or when you're out and about.
Optimize Your Workspace
Do you want to improve the quality of your meetings, the productivity of your employees, and ensure the overall efficiency of your company? Joan has got you covered!
You can use Joan as an analytical tool to achieve all of these objectives. Joan keeps a record of peak meeting hours, how many meetings were held, the popularity of particular rooms, and the most active users.
This allows employers and office facilitators to make insightful and data-driven decisions about workspace optimization. No more trial and error!
Level Up Your Workspace with Joan's Meeting Rooms Management
Joan combines simple, easy-to-use hardware with convenient user-friendly software as well as a mobile app to make meeting rooms management easy!
Our streamlined booking system will change the way your office functions. No more double bookings, meeting disruptions, or underutilized meeting rooms. You will always be able to see when rooms are available and when they're not. This makes room management far easier and more accurate.
It's also super convenient for your employees as they can book rooms as and when they need to right from their mobile phones.
So, if you're ready to level up your office space with a meeting room scheduler system, check out Joan today.
Frequently Asked Questions
What is a room booking system?
A room booking system is a solution that allows users to reserve meeting rooms, conference rooms, or other spaces within a company, or office building. Systems like Joan room booking allow users to view available room options, check availability, and make reservations through their company calendar, directly on the room scheduler on the spot, or through a mobile app. Joan meeting room booking system seamlessly syncs all the bookings syncs throughout the office and prevents double bookings, overlappings, room squatters and ghost meetings.
What is meeting room booking software?
A meeting room booking software is a type of software application that allows users to reserve and schedule meeting rooms within an organization or facility. Joan meeting room booking software allows users to view available meeting rooms, check availability, and make reservations through the calendar, through a mobile app, or directly on the wireless scheduler on the meeting room door. Joan meeting room booking software can help you to optimize the meeting room usage and ensure that rooms are used efficiently.