Meeting room management made simple
Meeting room management is a simple yet effective solution for anyone who wants to save time and energy when managing the booking of meeting and work spaces. With the introduction of the hybrid way of working, many structural and organisational changes have taken place which have made the organisation of work processes frustrating for many people. Fortunately, there are some smart solutions that make meeting room management simple.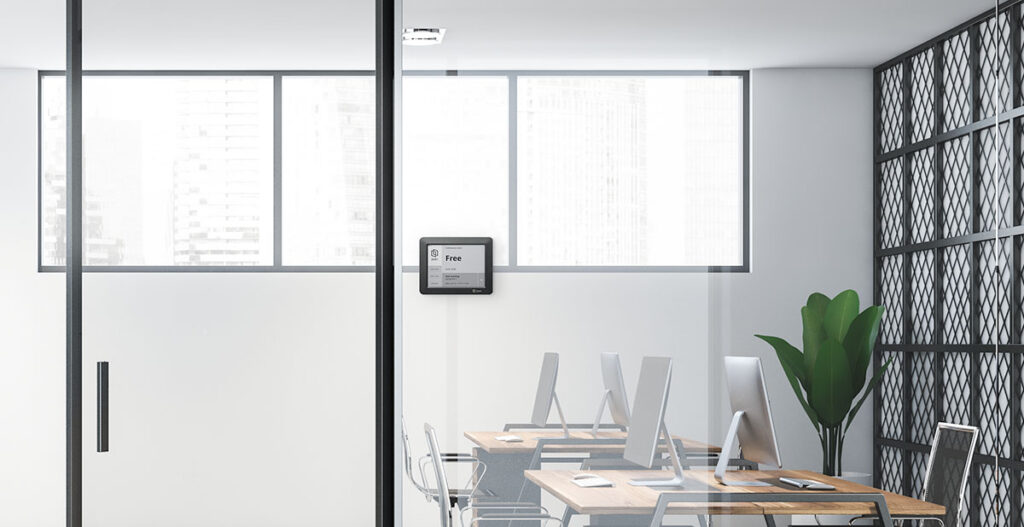 Using meeting room management to make your work processes more efficient
Meeting room management is a broader concept that encompasses smart room management and the use of software solutions and hardware interfaces to facilitate this. They enable the efficient organisation and booking of meeting rooms or other premises in the company, and provide office managers with a clear overview of which rooms their employees are using and when they are using them.
Consequences of ineffective meeting room management can be serious; because of overbooked rooms, there can be awkward situations and even office conflicts, while underused premises can create a loss for the company. With the help of meeting room management, you can save a significant amount of time, with the option to book a meeting room anywhere and anytime – at home, on the road, or in the office. Thanks to this, you can instantly check whether the desired room is available, and if not, when it is occupied until.
Why is meeting room management important
Due to different setups regarding work and workplace environments, the work of office managers is increasingly complex and requires a lot of quick adjustments. With the transition to a hybrid way of working, it became clear that physical presence in the office is no longer a prerequisite for quality work. Employees feel more free and productive as they are saving time which would otherwise be spent commuting to work.
Nonetheless, the fact is that employees want to come to work. Employees miss seeing their colleagues in person, and the opportunity for social interaction is a key driver for people's decision to go into the office when guidelines allow. For the majority (65 %), socialising is what they miss most when they work remotely (source: Microsoft). The question of how to ensure a safe working environment for employees has become one of the key challenges that office managers are facing.
Now you can ensure that employees will return to work safely
Arranging a stimulating work environment in which there is enough space for all employees is not the easiest – especially when taking social distancing into account. Here, you can count on Joan, a wire-free digital display for meeting room management that will become your indispensable ally whenever you need it. With the help of Joan, you will be able to keep track of which rooms are occupied and when they are available. This allows employees to come to work in a relaxed manner without any additional stress.
Increase productivity dramatically
Aware of the fact that every moment is precious, we designed Joan in such a way that its use does not require special technological expertise. It's easy to install and use – onboarding is fast, and you won't need any extra preparation. It's also extremely intuitive to use due to its simple and slick design that creates a complete user experience.
You won't have to worry about your colleagues knocking on your door asking when you will end the meeting anymore. With the help of Joan, your employees will always know when the premises are occupied and will no longer interrupt their colleagues' workflow. This, in turn, increases the quality of your meetings and the productivity of your employees, and consequently, the financial efficiency of your company.
Meeting room management has never been so effective
Embrace the hybrid way of working the right way – with Joan you can get an insight into the status of your meeting rooms, offices and other premises in the palm of your hand at pretty much all times. The Joan mobile app allows you to:
book meeting rooms and register for meeting,
display and track the most important information about the meeting, and
extend, cancel or close a meeting.
Since Joan is also a great analytical tool, you will always be up to date on how many meetings were held and how long they lasted, as well as which rooms are most popular, who books the most rooms and how well they are used. Based on the insights gained, you will find it easier to accept important decisions for the most efficient meeting room management.
What to consider when choosing the right meeting room management solution for you
When choosing the optimal tool for meeting room management, it is essential that it has an ultra low power consumption. Due to short battery life, most similar solutions need to be charged more often, which greatly affects their functionality and use. Joan devices can be placed at the entrance to a meeting room or office, where passers-by will always be able to use it.
Our Joan devices feature easy-to-use touch screens, as well as power efficient e-paper technology. Due to Joan ultra low power architecture, all our devices have an exceptionally long battery life – Joan's battery can last for months or up to one year on one charge. And you'd be surprised to hear that Joan can run for a whole year on the power required to make a single cup of coffee!
Are you ready to forget about meeting room management problems?
With Joan's help, you can avoid meeting interruptions, double-bookings and under-utilised spaces. Say goodbye to the constant search for available rooms and time-consuming booking arrangements – Joan will take care of all this for you.
Schedule a free demo of our meeting room management solutions now!
Sources:
Microsoft Surface UK. "Work Smarter to Live Better – Understanding the new expectations of the UK workforce when it comes to hybrid working." 2020.
M. Peeters, T. Compernolle, S. Van Passel – Leasing out unused meeting room capacity to reduce future office space needs: A case study of The Hague, Netherlands
Mustonen, Pyry (2021), Maximizing profits with functional meeting areas
Joan, How to make hybrid and remote work environments more fulfilling – https://blog.getjoan.com/how-to-make-hybrid-and-remote-work-environments-more-fulfilling