Visitor Management System
Picture no more inefficient, crumpled, and easily lost sign-in sheets. The elimination of your employees' and visitors' frustration and anxiety. Smooth check-in and check-outs without much effort and time involved.
Joan's visitor management system is the perfect solution to all those visitor management problems. With it, you can simplify visitor access and seamlessly track who's coming and going from your building or office space.
What Is A Visitor Management System?
Your front desk clerk or receptionist has so many tasks to complete daily. Why add visitor management and check-ins to their list?
A visitor management system takes the pressure off these essential workers. They no longer have to micromanage every visiting situation.
Joan visitor management software entails a digital process of tracking every visitor who enters and exits the building.
Think of clients, delivery people, job applicants, contractors, consultants, and so on. There is a long list of individuals who visit your business. Joan is your solution to managing every single one of these visitations without putting the extra work on your receptionist. This not only enables them to focus on other, more important tasks, but it makes signing in quick and convenient for visitors too.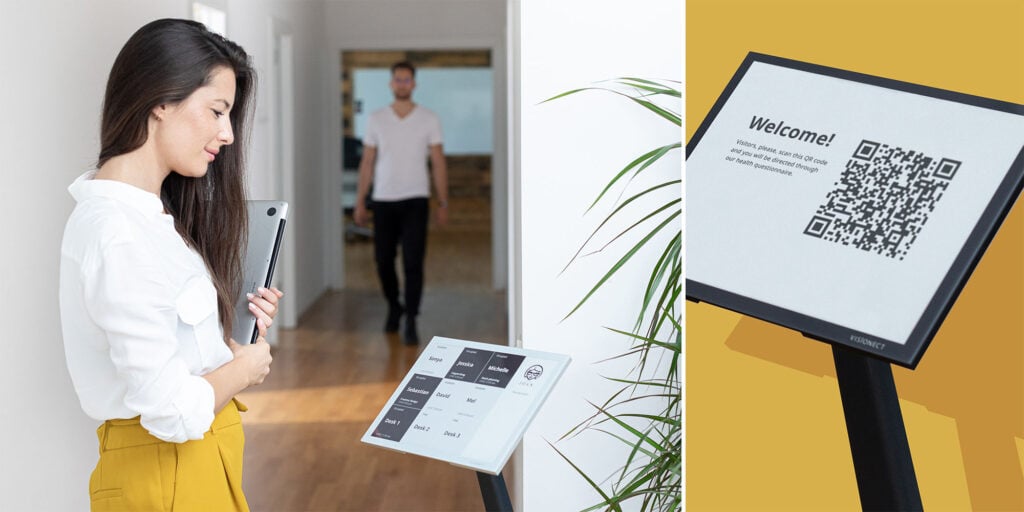 The Benefits Of A Visitor Management System
The Joan visitor management system is so easy to use and can benefit your business in several ways. Visitors can enjoy a fast and seamless welcome to the site and they'll leave impressed and satisfied with their visit.
Convenient & Efficient
One of the main benefits of the Joan visitor management app is that it improves efficiency, checking in your visitors seamlessly.
It is a no-fuss visitor management solution that allows you to track any visitors and let them check into the building using a QR code. This is a convenient and efficient visitor check-in process. No more filling out sign-in forms by hand or waiting for the receptionist to check in visitors.
You can also enable the option to notify the host when a visitor arrives so that they can meet them timeously.
Visitors can either arrive on the premises and request an ad-hoc meeting or you can book-in your meetings and send out invitations to visitors in advance. To do this, simply schedule a new appointment, set a date and time, and enter your visitor's email address. They will receive an invitation to the meeting with a PIN they will need to use when checking into the building.
Boosts Your Brand Image
Having a convenient, well-performing visitor management system in place has visitors impressed from the get-go. A good, lasting impression is essential for boosting your business' brand image. And showcasing professionality can start before your visitors even enter the company premises!
Joan is easily customizable to suit your brand so that you can maintain a cohesive brand image across all touchpoints.
An efficient visitor management system also shows that your company is organized and that you care about your visitors' time too. This helps to create a positive impression of your brand.
Increased Visibility And Transparency
The company admin team, security team, and specific employees can access a digital visitor log displaying details about each visit.
This enables you to track things such as:
How many times has a visitor entered or left your premises within a certain time period?
Which employee(s), team, or department did that visitor interact with?
What time did the visitor arrive and what time did they sign out?
This transparent data is important for security but can also drive decision-making.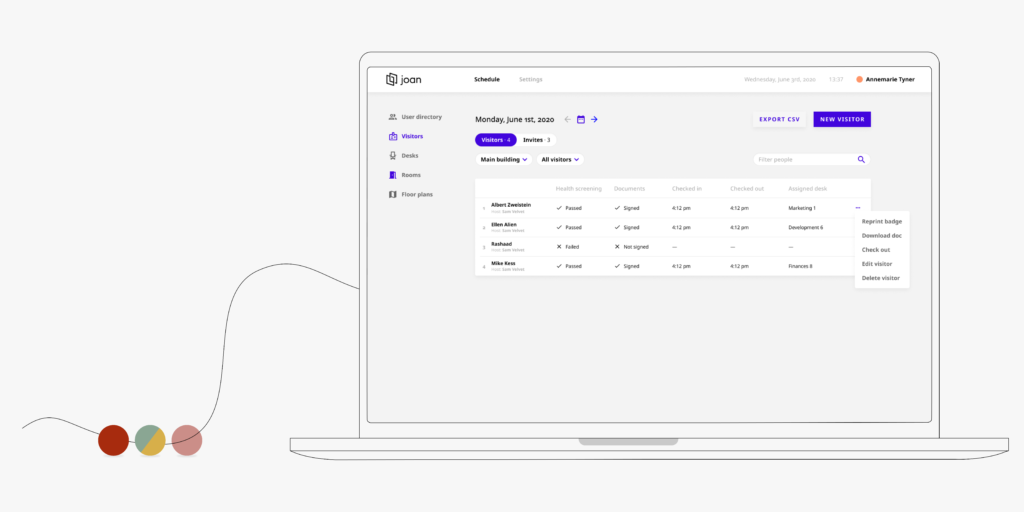 Reduces Visitor Waiting Times
No one wants to experience long waiting times and congestion in the visitors' lobby. It's frustrating for everyone.
With Joan's visitor management, you can streamline visitor check-ins and ensure visitors are greeted timeously. It can send instant notifications via email or text to hosts and receptionists so they are prepared and ready for the visitor when they arrive.
If visitors walk in and the receptionist isn't at the desk, they don't need to waste any time waiting. With Joan, you send your visitors a digital invite with a QR code that they will simply scan when they arrive. It's as simple as that!
Once your meeting has concluded, visitors will scan a check-out QR code and be able to leave quickly for their next destination.
You can Learn more by reading our blog post.
Make Your Workplace Smarter With Visitor Management
The Joan visitor management app is a smarter way to manage your visitor experience. It is also visitor-led. So, rather than a receptionist managing the entire visitor registration, the visitor is empowered and prepared.
Since Joan is customizable, you can incorporate any company policies and other documents to inform the visitor in advance. A client can therefore enter your building already informed and knowledgeable, creating less stress.
Simplify The Visitor Check-In Process
The visitor check-in process should be quick. It should only require a click or two. And this is the case with Joan's smart software.
By the time your visitor scans the QR code on arrival, they have already pre-registered and have received pre-appointment confirmations. Both employees and guests are prepared to ensure quick processing and a friendly welcome.
Joan reduces the awkward scenario of visitors arriving and not quite knowing what to do or where to go. Hosts will know when their visitors arrive and can meet them as they do.
Log And Track Visitors
The Joan device's visitors screen has a tab for visitor information (names, check-in and check-out times, document signage, and their assigned desk). It also has a tab for invites sent.
This makes each visitor interaction easy to track. It automatically and securely stores this information on the cloud, allowing for future tracking of visitation history.
How many guests visited yesterday? How many visited last month? Or how many visited last year?
You can answer all of these questions and more with Joan's data-driven digital visitors' log.
You can also monitor how many people are on-site at any given time and better manage overcrowding!
Health Screening
Joan also has a health screening feature. You can have employees and visitors fill out a health screening questionnaire before they enter the office. This can help you maintain a healthy environment at all times and prevent the spread of colds and the flu.
The screening questions are customizable to you. So, you can decide on specific questions to ask and other documentation you require before entry to the company grounds.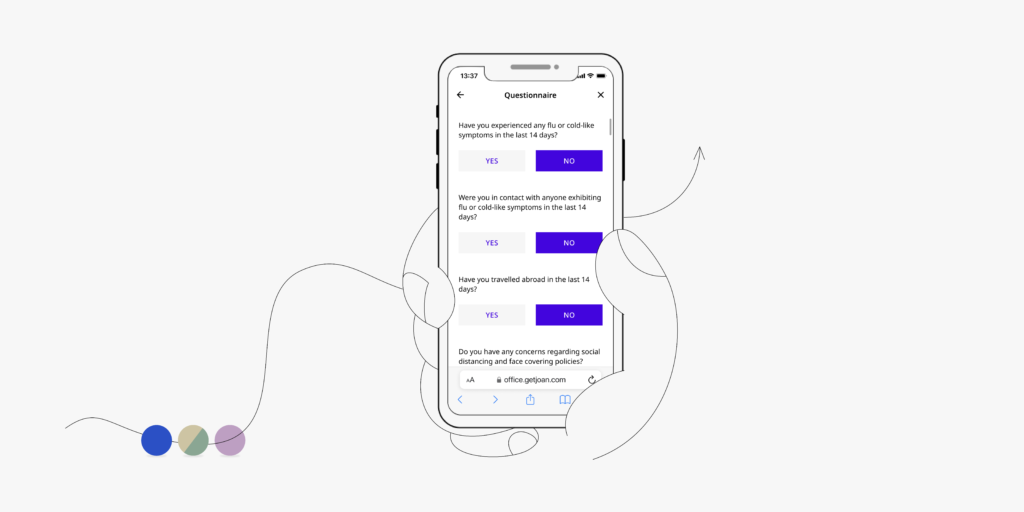 Streamline Check-Ins With Joan's Visitor Management Solution
If you've felt short-staffed due to an inefficient visitor management system, the easiest solution is to switch to Joan!
Joan's visitor management solution is extremely versatile and will make visitor check-ins a breeze. It has many additional benefits on top of being time and energy efficient.
Joan is also customizable to suit your needs. This means that it's not a problem if you decide you want to change up your system. It is easy to make quick changes within minutes to optimize your business' visitors' management system.
Keep your workplace safe and operating efficiently with Joan's digital visitor management. Check out our solution today to effortlessly manage all visitors. It will make check-ins and check-outs quick and seamless for visitors while ensuring your employees are always ready for their clients as they arrive.
Frequently Asked Questions
What is visitor management process?
"Visitor management is the process of tracking and managing the flow of visitors to a company or facility. The goal of visitor management is to ensure the safety and security of employees, visitors, and property. A typical visitor management process includes the following steps:
Pre-registration: Visitors may be required to pre-register for their visit, either online or by phone. This can include providing personal information such as name, company, and purpose of visit.
Check-in: Upon arrival, visitors are checked in at a reception or security desk, where they are asked to present identification, sign in, and receive a visitor badge.
Screening: Visitors may be screened for security or compliance purposes, such as through a metal detector or security camera.
Escorting: Visitors may be escorted by an employee or security guard while they are on the premises.
Check-out: Visitors are required to sign out and return their visitor badge upon leaving the facility.
Data management: The data collected through the visitor management process is used to track visitors, monitor facility usage, and maintain records for compliance and security purposes.
Many organizations are now using digital visitor management systems such as Joan visitor management to automate this process, which helps in reducing manual errors and increasing simplicity and effectiveness."
What are the benefits of a visitor management system?
"A visitor management system is a solution that automates the process of tracking and managing visitors. There are several benefits of using a visitor management system like Joan, including:
Improved security: A visitor management system can help to improve security by providing a more efficient way to check in visitors.
Increased efficiency: A visitor management system can automate many of the tasks associated with visitor management, such as check-in and check-out, badge printing, and data collection. This can save time and reduce the workload on receptionists and security personnel.
Compliance: Many organizations are required to maintain records of who enters and leaves their facility. A visitor management system can help organizations to comply with these regulations by providing an accurate and auditable record of visitors.
Better communication: A VMS can help to improve communication between employees and visitors by providing real-time notifications, such as email or SMS, to the host employee when a visitor arrives, which helps the employees to be prepared for the meeting.
Cost savings: A visitor management system can help organizations to save costs by reducing the need for manual processes and paper-based systems.
Better visitor experience: By automating the check-in process, a visitor management system can help to reduce wait times and provide a more efficient and pleasant experience for visitors."