The Essential Guide To Implementing And Utilizing A Conference Room Scheduler Display
Manually scheduling meetings through an admin clerk or receptionist is a tedious and time-consuming task. Not to mention, it leaves room for human error.
So, why not make it easier for everyone by utilizing a conference room scheduler display? This helps eliminate the middleman. It enables everyone to view conference room availability and make bookings more efficiently.
If you're interested in streamlining your meeting room booking process, here's what you need to know about implementing and utilizing a conference room scheduler display.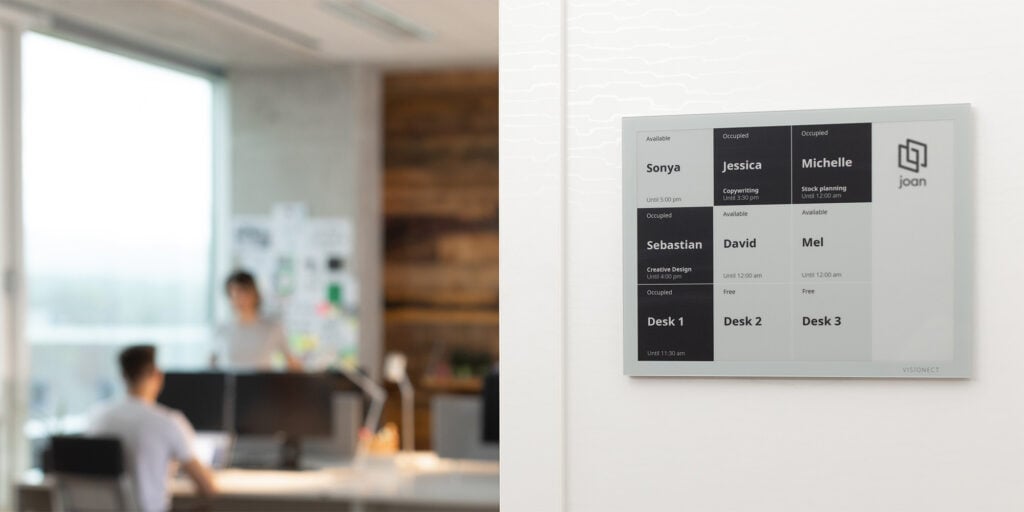 What Is A Conference Room Scheduler Display?
In a workplace, there are various rooms in which employees can have in-person meetings. Constantly contacting your receptionist or admin staff about room availability and bookings can be frustrating. It also takes up the time of your admin staff that could be spent on more important things.
In other words, manual spreadsheet or paper room booking management is outdated. Rather opt for a wall-mountable scheduling display. You can place these displays directly outside each conference room in your office building.
A conference room display system allows for the easy viewing of room availability, time slots, and other important meeting information. These displays also enable quick bookings straight from the devices.
Joan has devised a low-power, E-paper meeting room display system that is professional and blends perfectly into any environment. Each Joan device combines hardware and software, connecting employees' devices and calendars to one system.
These meeting scheduling devices can be mounted outside each conference room door using smart magnets. No need to drill holes or install wiring!
Why Implement Meeting Room Scheduling Displays?
Here are some reasons to implement a conference room scheduler display:
Increase Visibility
Attach a Joan meeting room screen anywhere in your office (outside meeting room doors, in the foyer, next to the elevator, etc.).
Both employees and meeting hosts alike can easily view which conference room is being utilized and when.
This visibility eliminates double bookings and interruptions. Everyone all across the company can see on one Joan device whether or not any meeting rooms are available or in use.
Furthermore, because Joan keeps all bookings in place, anyone can easily find other important information on any current or future meetings.
Keep Meetings On Track
It is common to have workplace interruptions by colleagues who have an overlapping meeting in the same room. And once all the logistics, packing up, and moving around have finally calmed, everyone has been completely thrown off track.
But these awkward encounters will be a thing of the past with Joan's conference room display screens. Joan brings about structured meetings and more peaceful employee relationships. Meeting room display software allows for the nitty-gritty work to be done in a streamlined fashion.
The meeting host simply has to schedule a meeting, describe its agenda on their calendar, and share it with participants. Everyone else can then access this information from their own calendars, allowing participants to prepare adequately.
The basic information about these organized meetings (the host's name and meeting title) is displayed directly outside each room door on Joan's nifty display screen. This means that other people can see when the room is in use, thus preventing accidental interruptions.
Manage Rooms More Economically
Unused meeting rooms cost businesses an inordinate amount of money each year. The wastage of time, real estate, and resources is the cause.
How many times have your conference rooms remained vacant during a time when a meeting was supposed to be conducted? No-shows are a bane. But Joan allows for a quick cancellation from your calendar. This releases the meeting room and alerts attendees of the cancellation.
Software for conference room usage records data for office admin to track occupancy rates of specific rooms. It gives feedback as to who is using the rooms and for how long.
Having this information enables you to make changes and improvements to your meeting rooms. Thus, you can better manage underutilized rooms and use your available office space more economically.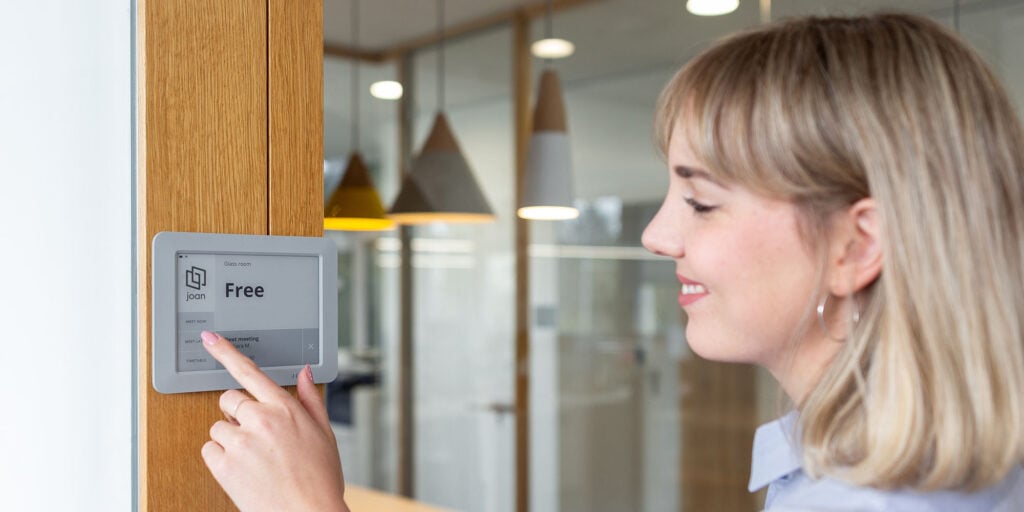 How To Utilize Conference Room Scheduling Displays
It's clear that conference room scheduling displays have powerful benefits for meeting room management. Now let's jump into how you can use Joan's stylish and user-friendly displays.
Check Room Availability
Directly on the Joan schedule display, you can see the room name and when it is available. Should you choose to, you can also see the seating capacity by configuring the settings in the Joan portal.
Conference room displays are simply the best way to show that a room is occupied.
You can check the availability of a specific room for a meeting on your calendar. If the room is not available for your urgent, last-minute meeting, you can view what other meeting rooms are free. This beats wandering around trying to figure out which room you can access.
If not a single room is available, you can check when meetings start and end so that you can plan your meeting for an available time slot.
In addition, you needn't worry about no-shows! Hosts and participants will receive cancellation updates and reminders of their room bookings through your calendar.
Book The Room Directly From The Display
As above-mentioned, a few quick taps on the conference room display screen allows anyone to book an available room.
Simply walk up to a conference room door. Tap on the "Timetable" icon to view vacancies. Then tap "Book" to reserve the most suitable room for your needs. Thereafter, you can walk away knowing that this information is updated and synced with the room's calendar immediately.
The easy-to-navigate screen also allows for meeting extensions and cancellations. For example, if your meeting ends early, you can update the meeting time with a quick tap on the Joan device. Other employees can be alerted in real-time about meetings running over time or ending early.
Access Meeting Information
Conference room scheduler displays allow you to view key meeting information so that everyone can easily access the information they need. The host's name and meeting title are displayed on the Joan devices.
Attendees can access more detailed information about the meeting on their calendars. This can include the participants' names, the context of each meeting, and more.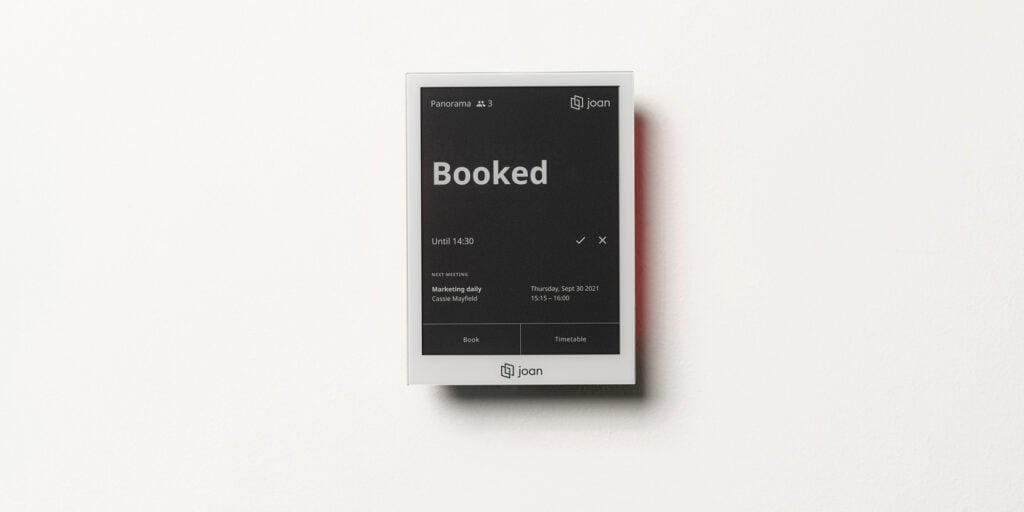 Customize For Your Company
Easily customizable, Joan's various devices allow you to maintain your company aesthetic. Your business will appear more modern and professional for guests as the meeting room screens blend in perfectly with any environment.
Each Joan device comes in either a black or white frame so you can choose according to your style. In addition, the custom content interface allows you to display company-specific content. This includes things such as images, branding, and helpful information for employees or visitors. You can also customize the font size, layout, room names, and more to suit your specific needs and preferences.
Conclusion
Joan's conference room display option is a modern asset that you will certainly want to prioritize. A conference room display system allows for enhanced visibility, easy access to meeting information, and a more efficient and streamlined work environment.
Why would anyone want to miss out? Get in touch with us today to find out more about how Joan devices can benefit your office.
Frequently Asked Questions
What is a meeting room booking solution?
A meeting room booking solution is a system or software that allows users to reserve and schedule the use of a meeting room within an organization. These systems like Joan Room booking allow users to view the availability of different rooms, make reservations, and manage or cancel existing reservations.
What makes a good booking system?
A good booking system should have several key features that make it easy for users to schedule and manage reservations. Good room booking systems, like Joan Room is, good have:
User-friendly interface: The system should be easy to navigate and understand, with clear and simple instructions for making reservations.
Real-time availability: Users should be able to see the availability of different rooms or resources in real-time, and make reservations accordingly.
Flexibility: The system should be able to handle different types of reservations, such as recurring meetings or block bookings.
Reporting and analytics: The system should provide detailed reports and analytics on usage, occupancy, and other key metrics, to help users better manage their resources.
Mobile-friendly: A good booking system should also be mobile friendly, with a user-friendly mobile interface that makes it easy for users to make reservations and manage their schedules on the go.
Automated Confirmation and Reminder: The system should automatically send confirmation and reminder emails to the meeting attendees, to ensure that everyone is aware of the meeting schedule.
Security and privacy: The system should have robust security and privacy features to protect user data and keep it confidential.
How can I improve my booking process?
There are several ways you can improve your room booking process to make it more efficient and user-friendly:
Implement a cloud booking system like Joan Room: By using an online booking system, users can easily view the availability of different rooms and make reservations at any time, without having to contact someone directly.
Integrate the booking system with your calendar: By integrating the booking system with your calendar, users can easily view their upcoming meetings and reservations, and make sure there are no conflicts.
Use automated confirmation and reminder emails: Automated emails can help ensure that users are aware of their reservations and any changes to them.
Provide detailed information about the rooms: Provide detailed information about each room such as its location, size, capacity, and amenities to help users make an informed decision when booking.
Optimize the room usage according to data and analytics provided by the booking system implemented: Use the reporting and analytics features of your booking system to track usage and occupancy, and identify patterns and trends to help you better manage your resources.
By implementing these changes, you can improve the overall experience for your users and make the room booking process more efficient and streamlined.