Change any space to a bookable meeting space
Joan is a meeting room management system that lets you easily book any room or space from anywhere and simply enjoy your work. No more meeting interruptions, double bookings, and underutilized rooms!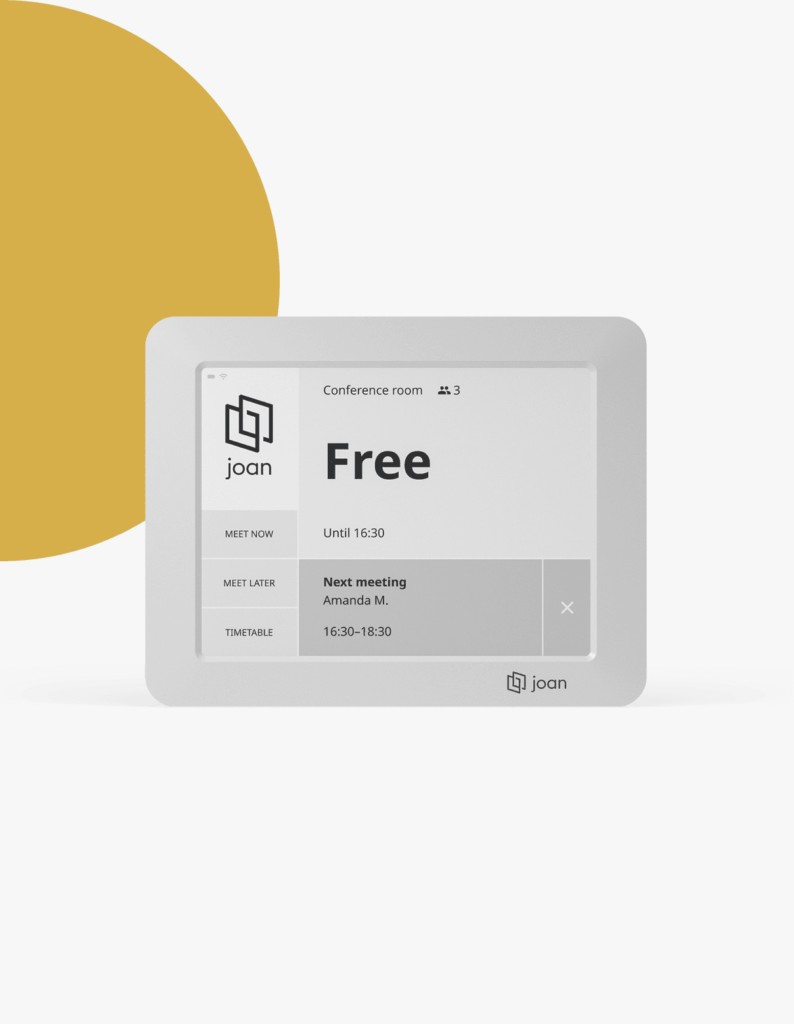 Manage your meeting spaces your way
Every organization's meeting management system is unique. To get the most out of it, simply customize Joan to meet your needs and create a pleasant, efficient and collaborative environment.
Connect your calendar
Meeting room booking and management in a single application. Connect Joan to the calendar you already use and the two will sync without you even noticing.
Share meeting information
When you're on the spot, you can check the room timetable and other information. You can also book a meeting or your slot right away.
Get insights and optimize
Advanced analytics help you keep your finger on the pulse of your workplace utilization. No more guessing games, only data to help you reach the highest possible efficiency.
Connect Joan to the tools you already use
Joan is more than just another meeting room reservation system. Integrate it with the calendar and communication tools your team already uses, and scheduled meetings will automatically appear on relevant Joan displays.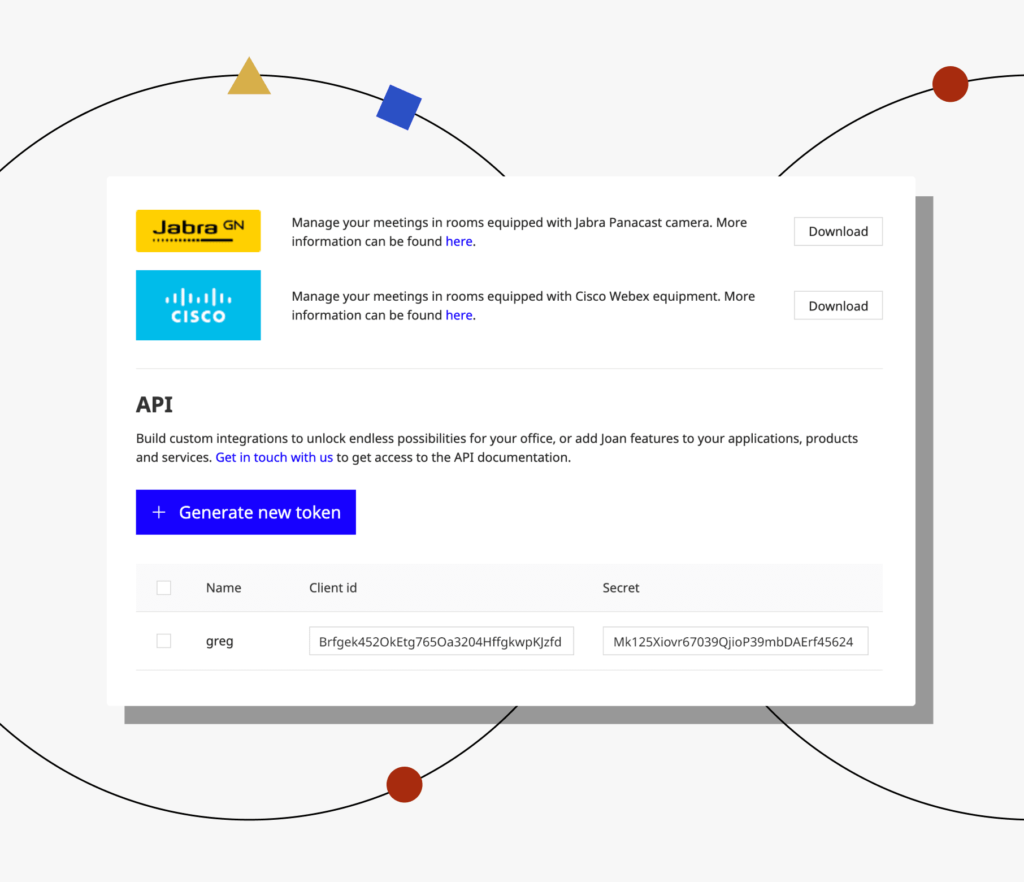 Use Room Booking on Joan devices or any other tablet
Already have a few tablets? Put them to work and display centrally-managed content on the screens to take your meeting room booking system to the next level. For the best experience, use one of Joan wireless room displays.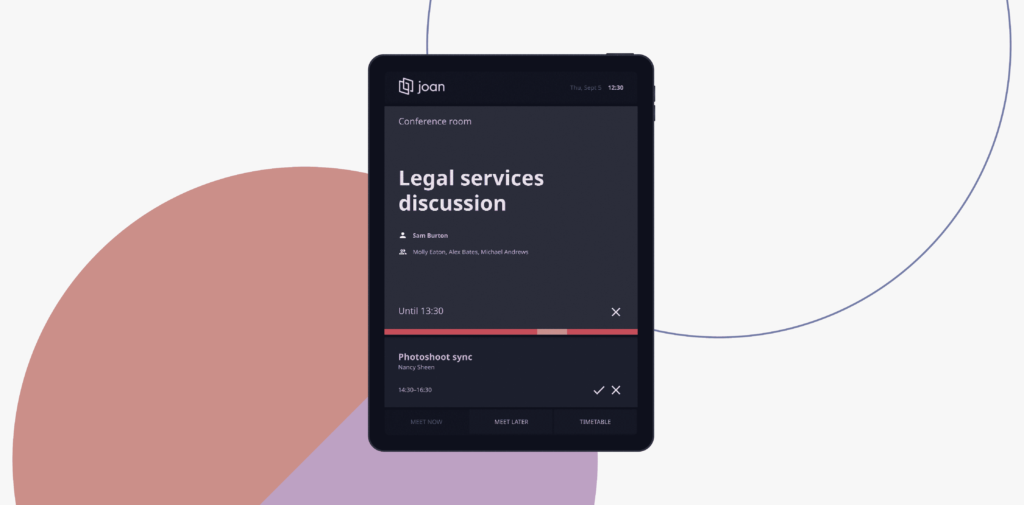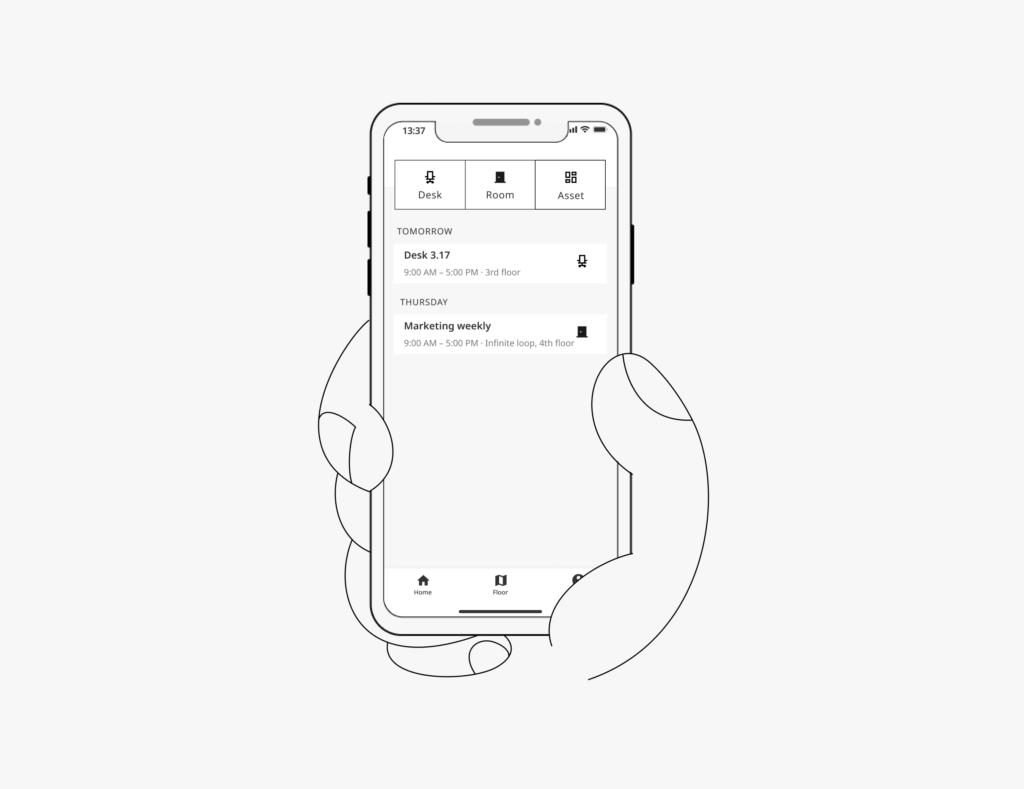 Oversee bookings directly from your mobile
Book meeting spaces and edit bookings.
Access and track important meeting information.
Extend, cancel or end a meeting.
Optionally enable desk booking.
Available for iOS and Android.
Single Sign-On available
I love the idea of Joan. It's something different, more professional, sharper looking. It is easy to install, plus people don't want to walk up to another LCD.

They know how to make black and white look great.

I don't have to work with sheets of paper and I know I can count on it. The system is very reliable, simple to use, it's connected to wi-fi, small, and recharges fast.

We use Joan in the engineering office and people there are smart but they like Joan because it's really simple to use. Joan easily integrated with us and I haven't heard any complaints from 40 people that are using it.

Once I looked at your onboarding packet it was pretty straightforward.

We did have iPads for conference room booking before but they bulged and became a fire hazard.

People are happy to have a solution that works and looks much better than our previous iPad app we were previously using.

Joan changed our meeting room planning by not changing it. Our aim was to find a digital sign for our meeting rooms that would not require our employees to log on to another web interface.

We don't need to check the schedule to see the status of the conference room. This is the most convenient part, we can use an empty conference room right away without being embarrassed by sudden meetings or client visits.
Tools and accessories for smooth conference room scheduling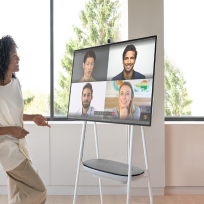 How to determine how much office space you need
This field is not scalable, because Figma doesn't allow to make a dynamic text field with a symbol, like arrow for instance, in the end of the sentance.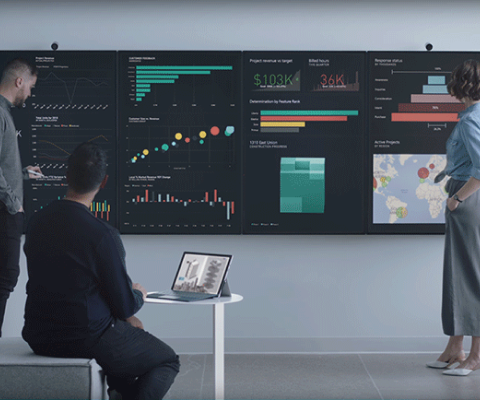 Benefits and challenges of large e-ink displays
This field is not scalable, because Figma doesn't allow to make a dynamic text field with a symbol, like arrow for instance, in the end of the sentance.