Organize and reserve your meeting rooms better.
Joan. Wireless, power-efficient, affordable, sustainable. A digital signage solution people can rely on. Show key information about your meeting rooms and office spaces.
Joan is the solution for every office space.
An easy-to-use device that helps companies organize and reserve meeting spaces and huddle rooms better.
Ideal for the corporate, education and government markets, Joan solutions seamlessly integrate with the existing calendar* and Wi-Fi network to improve the way people use meeting spaces.




A real-time schedule to show room availability
Schedule your meetings like you always have – in the company calendar – and Joan will show the real-time schedule of your meeting rooms, so everyone knows when they are available or not. Prevent double bookings. Create happier meetings.
Ad-hoc bookings
Simply walk up to the room and book your meetings right there on the Joan display. Joan will reserve the room for you and show the meeting in the calendar and on its display, and you can just walk right in and start your meeting without any interruptions.
A better way to manage your meeting rooms.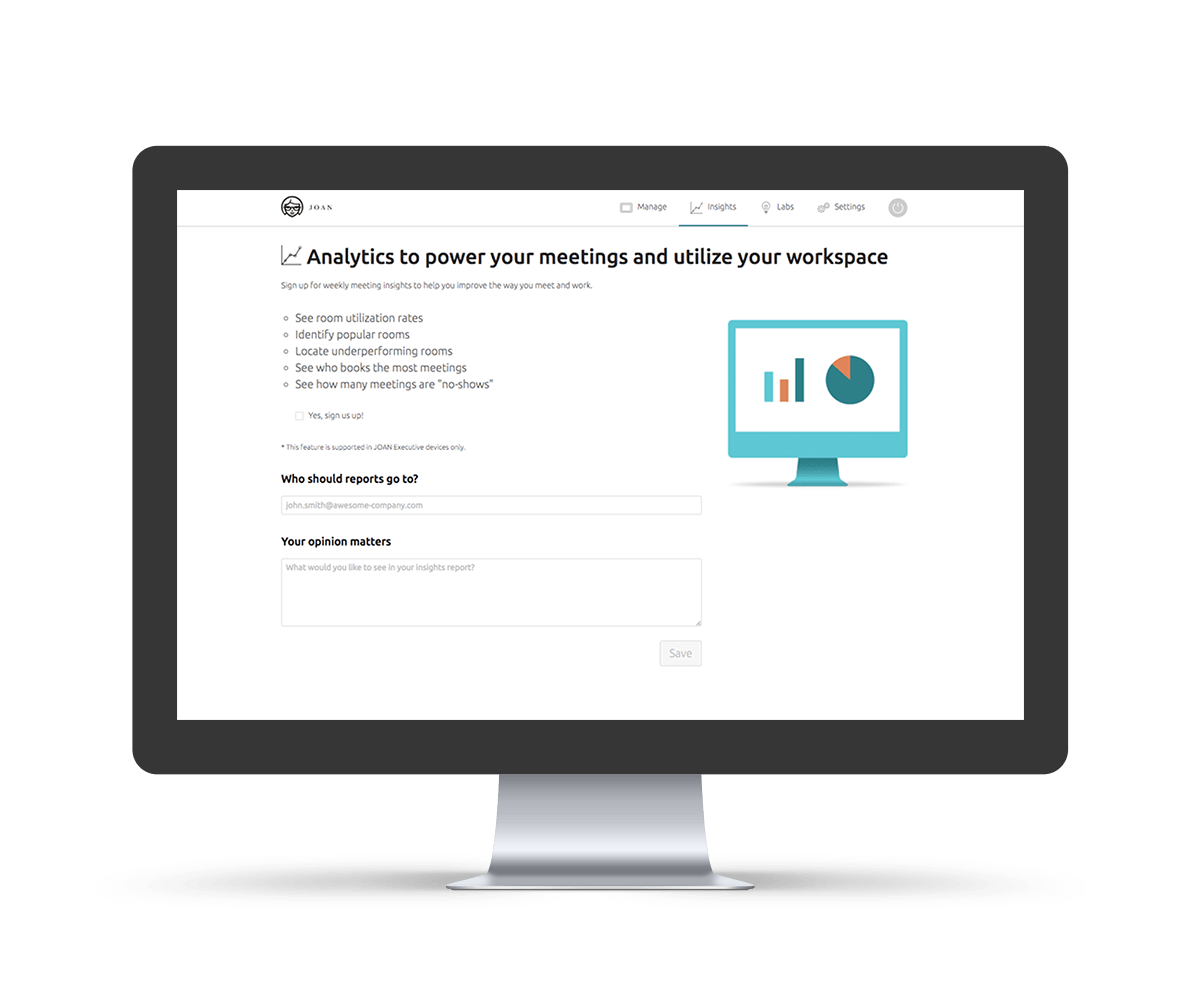 Manage everything from one place.
Setup and manage all your Joan displays centrally from one easy-to-use, secure Web Portal.
Choose different settings for different devices and have a complete overview in an instant.
Adjust settings, turn features on/off
Check the battery and the Wi-Fi signal
Sign up for new beta features, and more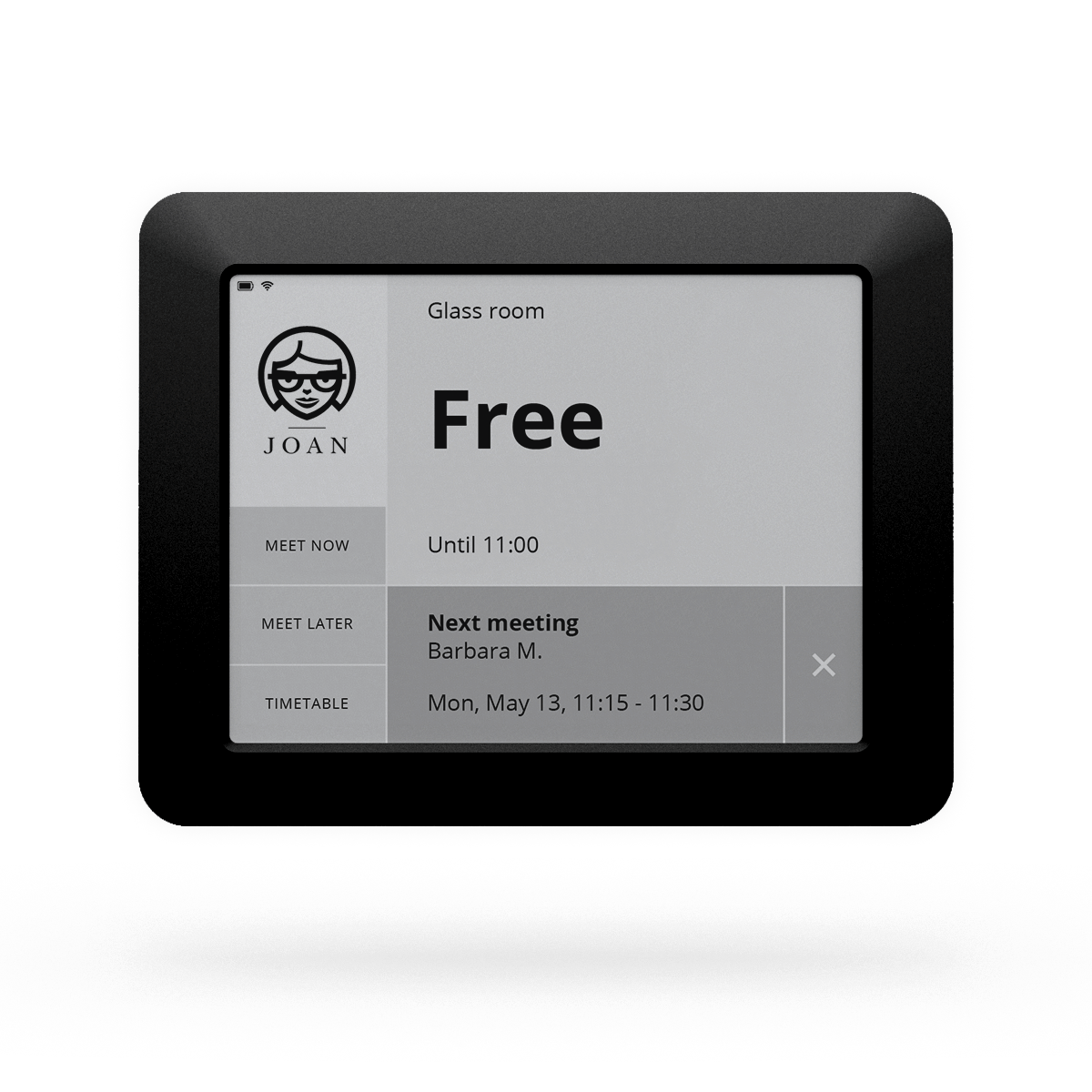 Display custom images and/or text on your Joan devices.
Replace Joan's regular interface with custom content. Upload image galleries or set your devices to display text and images at a certain time or in intervals.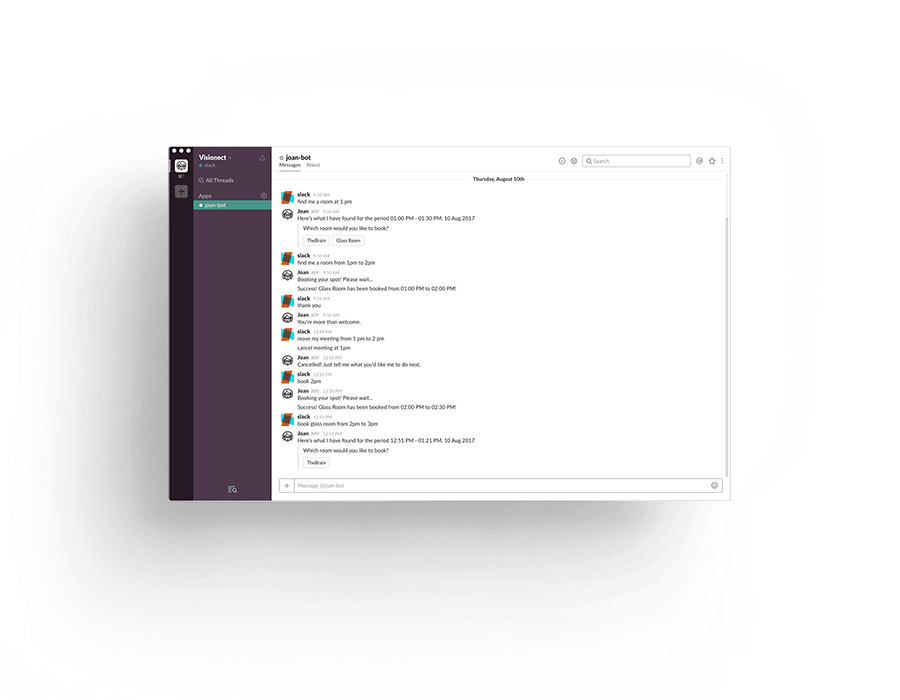 Book your meetings straight from Slack.
Don't interrupt your work in Slack. Send a message to Joanbot instead and let Joan schedule your meetings in the room of your choice.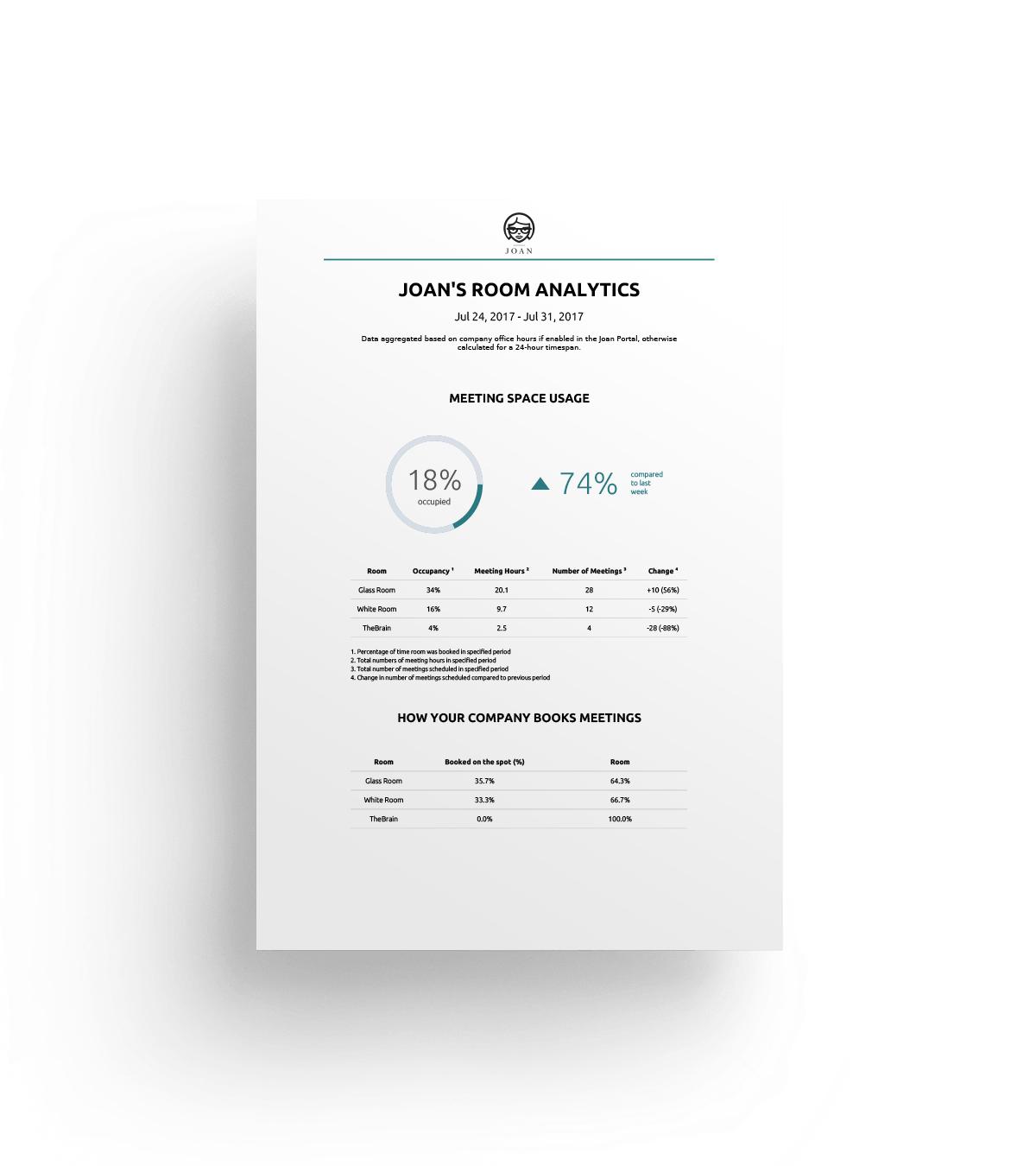 Make informed decisions with Joan's Room Analytics.
Get the data you need about your company's room resource usage. Free up the average 25% of your rooms occupied by ghost meetings. Utilize your space better, reduce real estate costs and enhance productivity.
Find your meetings with ease.
Joan Board shows at a single glance which meeting rooms in the building are taken and which are still available to use. Perfect for reception areas, lobbies, halls, common areas and shared spaces.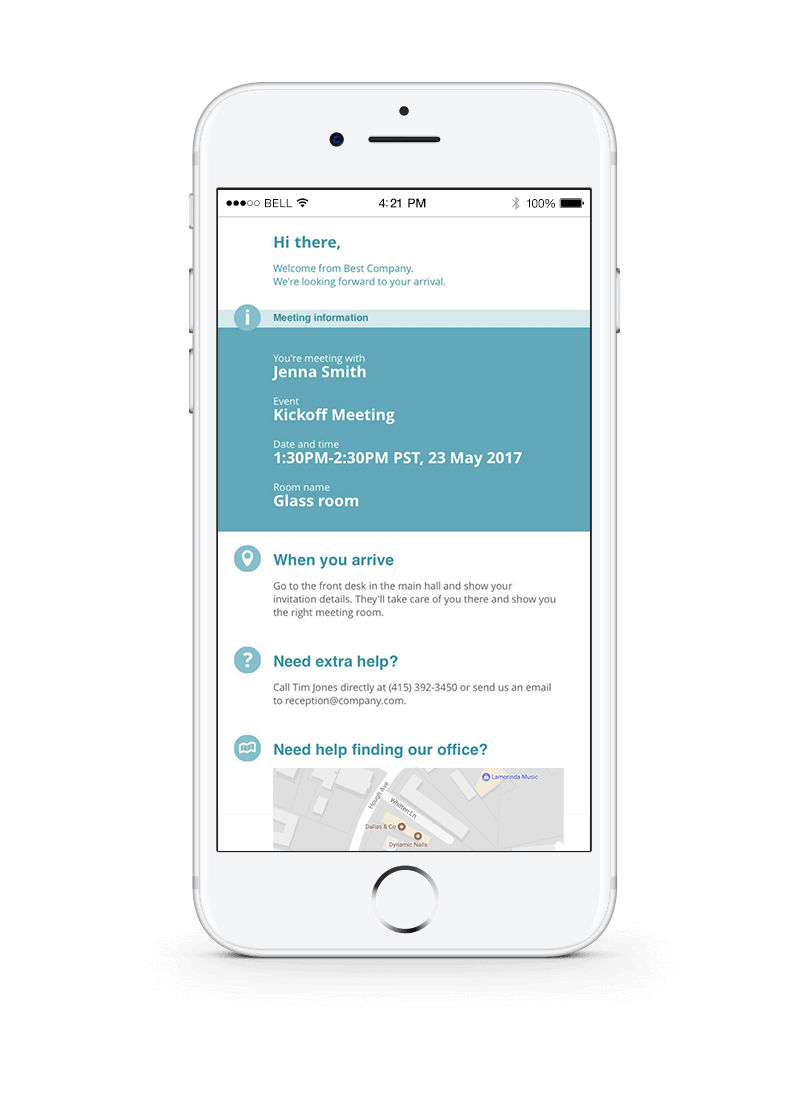 Make a lasting impression for your guests before they even arrive.
Give your visitors a warm welcome with Joan's automatic email notifications. Remind them their meeting is coming up by sending instructions on how to reach the office, who to call or add a personal message and include your company branding.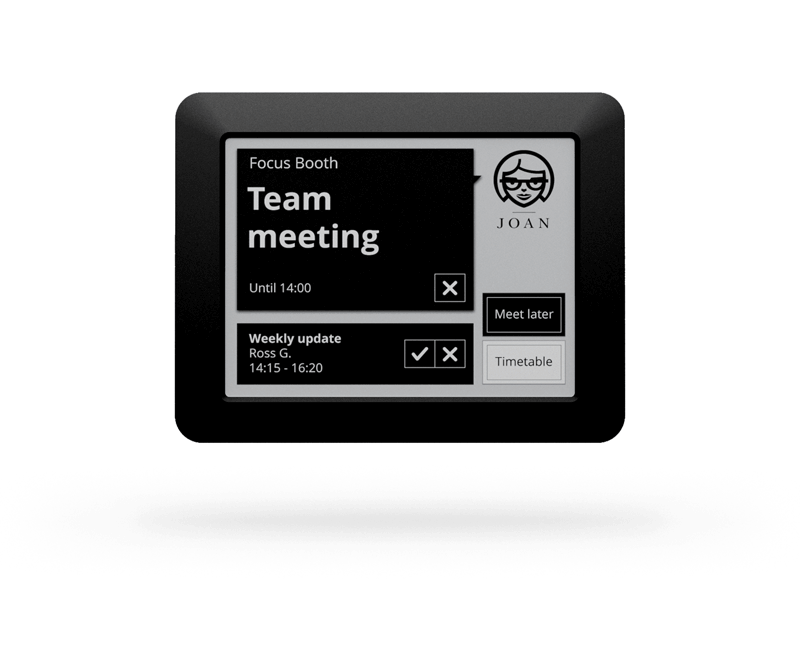 Personalize Joan and show your brand.
Show your corporate branding and upload your company logo. Select your language* (maybe Klingon if you're feeling stellar) and tailor Joan to your needs.
English, German, French, Italian, Spanish, Portuguese, Finnish, Polish, Icelandic, Norwegian, Danish, Dutch, Lithuanian, Czech, Russian, Slovak, Slovenian, Swedish, and Klingon, and new languages coming every month.
Build your smart office. See which Joan is the best fit for your organization.