Desk Booking Software
The right desk can do wonders for an employee's work performance. Practical office furniture and a well-organized workplace increase productivity and, ultimately, job satisfaction.
But what happens in the hybrid work environment? Do you need a desk for every person, even if it means that most of them will be unoccupied at any given time? No, of course not! But this often overlooked workplace issue needs to be addressed correctly.
Allow your employees the workspaces they need to do their best work with Joan's user-friendly desk booking software.
Make Desk Reservation Easy With Joan
Desk reservation software puts this power into the hands of your valued staff. They know when desks are available and can work around a schedule that suits them.
With a desk reservation, every staff member, whether hybrid (combination of in-office and remote work) or office-bound, can work in a space they love at a time that suits them.
And for the ultimate convenience, this reservation tool can be accessed via the Joan app on both mobile devices and desktop computers.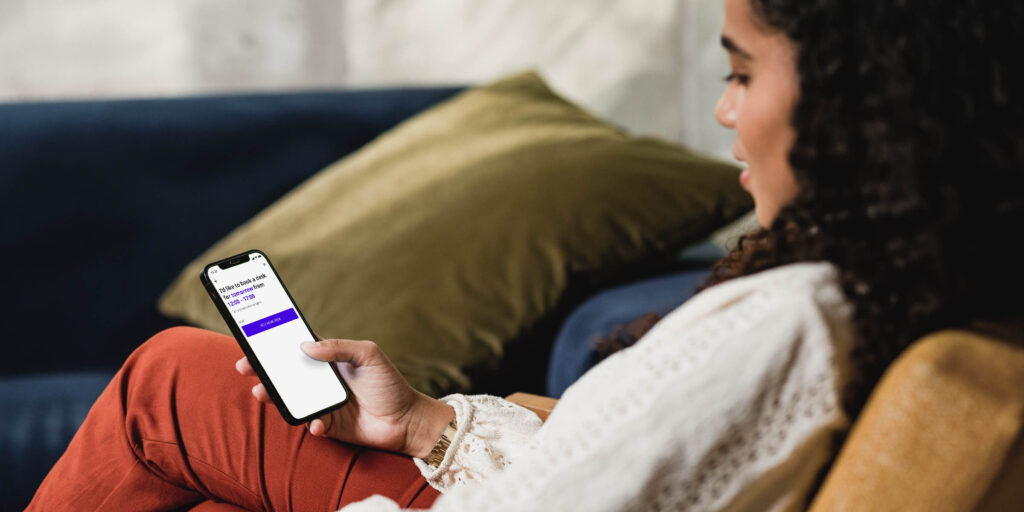 Streamline Your Office With Desk Reservation Software
Isn't it time you streamline your office? The problem in many companies is that too much valuable time is wasted on 'work about work'. Ordering desks, logically arranging them, and assigning them to staff takes time and money.
Hybrid work has become a popular way to work in recent years and has also proven to be one of the most versatile work models. However, with so many companies relying on a hybrid workforce now, there will be times when many of the office desks are not utilized.
Well, that'll never be a problem when you invest in Joan's desk booking solutions. You'll cut down on the number of desks you need, as you won't need one for every employee. And the efficient time management afforded by desk bookings allows staff to book the available desks at different times.
It saves you time trying to plan out the schedule yourself and improves the workplace flow.
Quick & Convenient Desk Booking
Both you and your staff will love how quick and convenient a desk booking is. It has a powerful impact, allowing employees to work how and where they want.
You don't have to have an overflow of desks to accommodate every employee of your business at all times. Employees can simply book a space when they need to.
With a desk reservation system, you can ensure that your employees never show up to work only to discover there isn't an available desk for them to use. Instead, they can easily book a desk when they need one.
Make Reservations From Anywhere
Productivity and scheduling tools have revolutionized the workplace. Now take it a step further.
Joan allows your employees to make their ideal desk reservations from anywhere at any time. This makes it incredibly easy to book a desk as and when needed.
Your hybrid workers can work remotely when they need to and when they need to be at the office, they can show up with the confidence that their desk is waiting for them.
Enjoy Complete Visibility Of Your Office Space
Desk booking software provides visibility for both you and your employees. Everyone is able to see how many desks are available at any given time and employees can effortlessly fit their desk time into the most convenient open slot.
This means there's no confusion when it comes to crunch time. Everyone knows how crowded or not the office will be so you don't have to worry about overbooking and overlapping.
Moreover, you can keep track of how many desks are being used over time. Thus, you can add or remove desks to use your office space more economically while accommodating your employees.
Joan desk booking creates order out of chaos, no matter the industry or commercial sector you're in. It's still your office, just more organized!
Maximize The Use Of Your Office Space With Desk Booking
With Joan's innovative desk booking software, you maximize your office space. It'll never be crowded with unused desks.
With less clutter, the workplace will be a nicer place to be. You'll free up space for a pretty office plant or work of art to inspire your workforce.
Make it easier for everyone to get around, with a workspace that's as flexible as their office schedule. Our award-winning software has impressed the international community, and we know you'll love it too.
Set Up Your Modern Workspace With Joan's Desk Reservation System
Our desk reservation system is a simple solution to a big problem – that of ensuring everyone has a good space to work.
It eases the transition from a traditional to a hybrid work model, without costly renovations, relocations, or wasted space. And with our complementary features like room scheduling and parking bay reservation, everything runs more smoothly and efficiently as a modern workspace should.
So maximize your office space and your workforce's potential. Get Joan today.
Frequently Asked Questions