Achieve workplace flexibility
Finding a desk that meets an individual's needs and workplace safety standards has never been easier. Joan Desk solution helps you adapt to new workspace requirements in the most efficient way.
Meet new workplace expectations
Joan Desk solution makes it easy to implement shift rotations and adjust to a partially remote workforce.
No training required
An extremely user-friendly interface ensures anyone can book a desk in less than a minute. There are no spreadsheets, no emails and no conflicts.
Swift setup
It takes only 10 minutes to create an account, upload a floor plan, add your employees and start booking desks.
Immediate flexibility and safety
You don't need to move a desk to create a flexible workspace. Simply limit bookable surfaces to adapt to any situation.
Enables contact tracing
The desktop version enables easy tracking of bookings, empowering office managers to track when and where employees were in the office.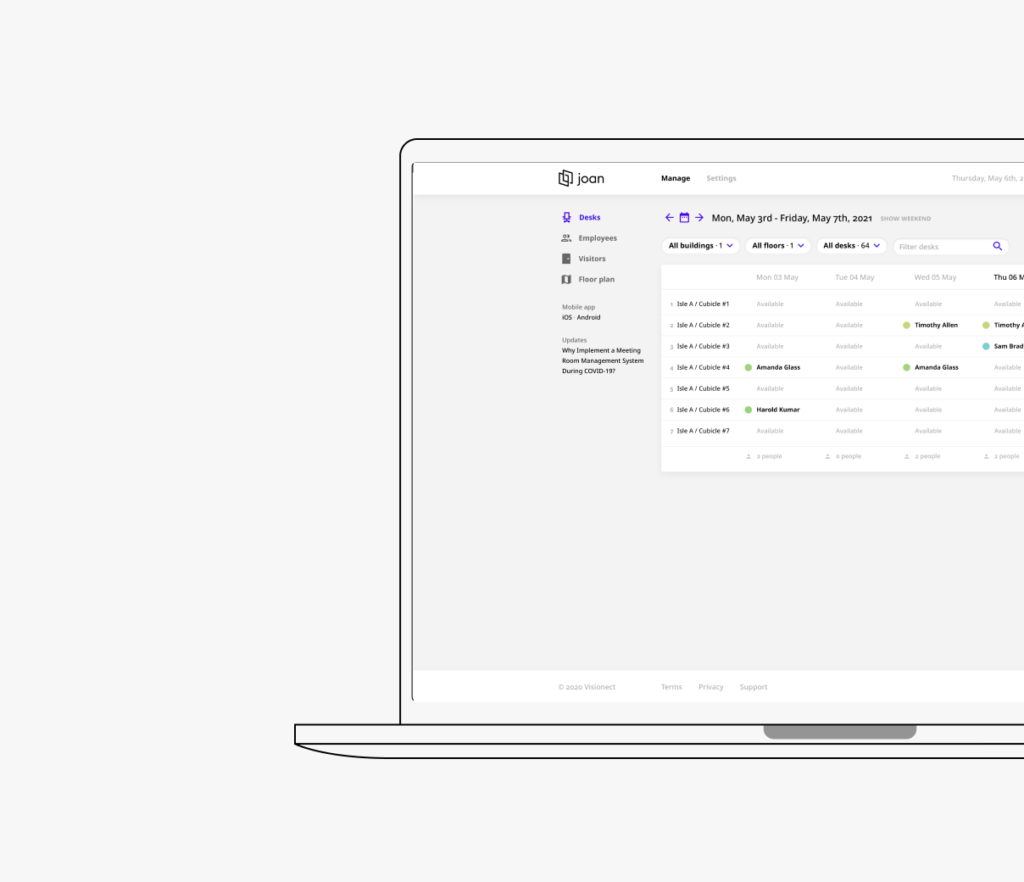 The Joan Desk Booking solution was chosen due to the clean and simple way the solution is designed. The feedback from our teams has been really positive with regards to how easy it is to use.

This is 100% something that we were looking for.

We've implemented a fully floating desk booking with a clear desk policy – you bring your laptop and start working. Joan Desk Booking app makes this possible without friction.

… there's no learning curve, there was no additional training. It's simple and straightforward and it does its job.

We are loving the app. It is helping us with allowing team members to come to the office if they feel comfortable and book a desk. I love how it allows me to upload a floor plan so they can see what desk they are booking.

We wanted to have something that people can do from their mobile phones, on the go – wake up in the morning, decide they're going to come into the office and book their desk."
Start with a 30-day free trial
No strings attached and no credit card required. Automatic users synchronization with Microsoft Active Directory available.