Get everything you need to manage your rooms better.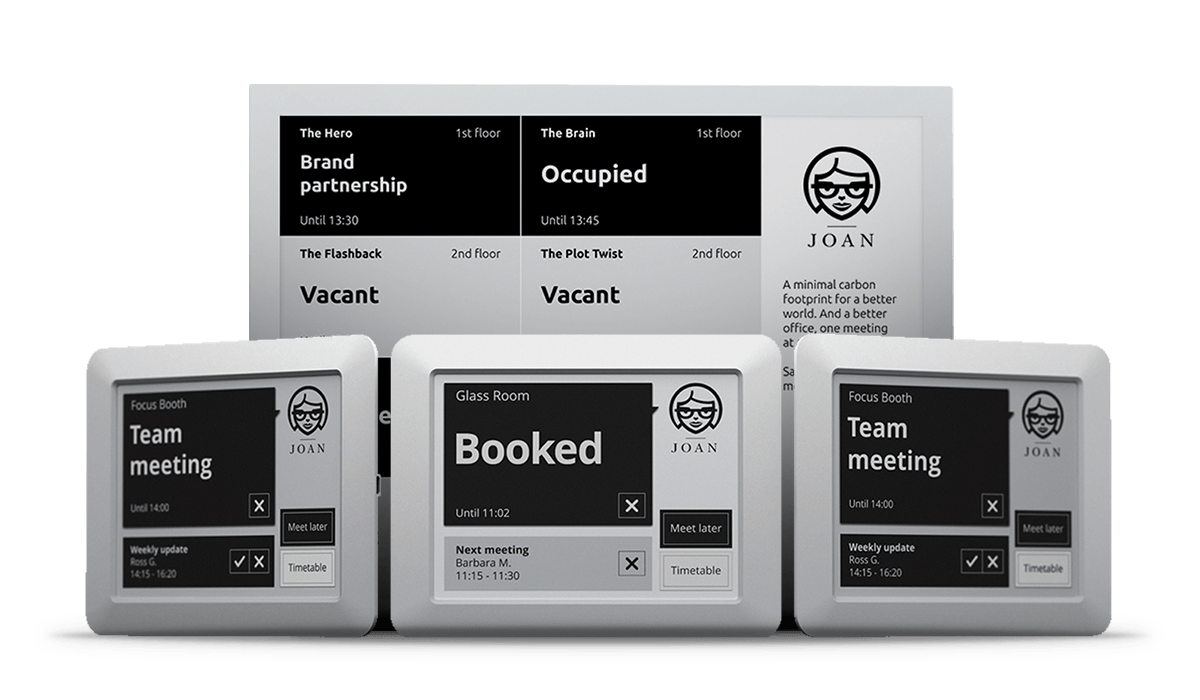 "What do I get when I buy JOAN?"
You get an all-in-one scheduling solution that includes everything you need to get started.
You get a JOAN room display and the software that connects to your calendar to sync real-time schedule updates.
Getting your rooms set up is quick and easy. All you need to do is connect your JOAN room display to your calendar and Wi-Fi, and use our Cloud service or host devices on your own premises.
30-DAY RISK FREE TRIAL
Join the thousands of companies and try your new JOAN device for 30 days. If you don't love it, send it back — no questions asked!  
Small meeting rooms and huddle spaces
A better way to organize and reserve your meeting rooms and huddle spaces.
Show when the room is occupied and the meeting room schedule to eliminate rude interruptions.
Enable everyone in the office to book rooms on the spot with these interactive room displays.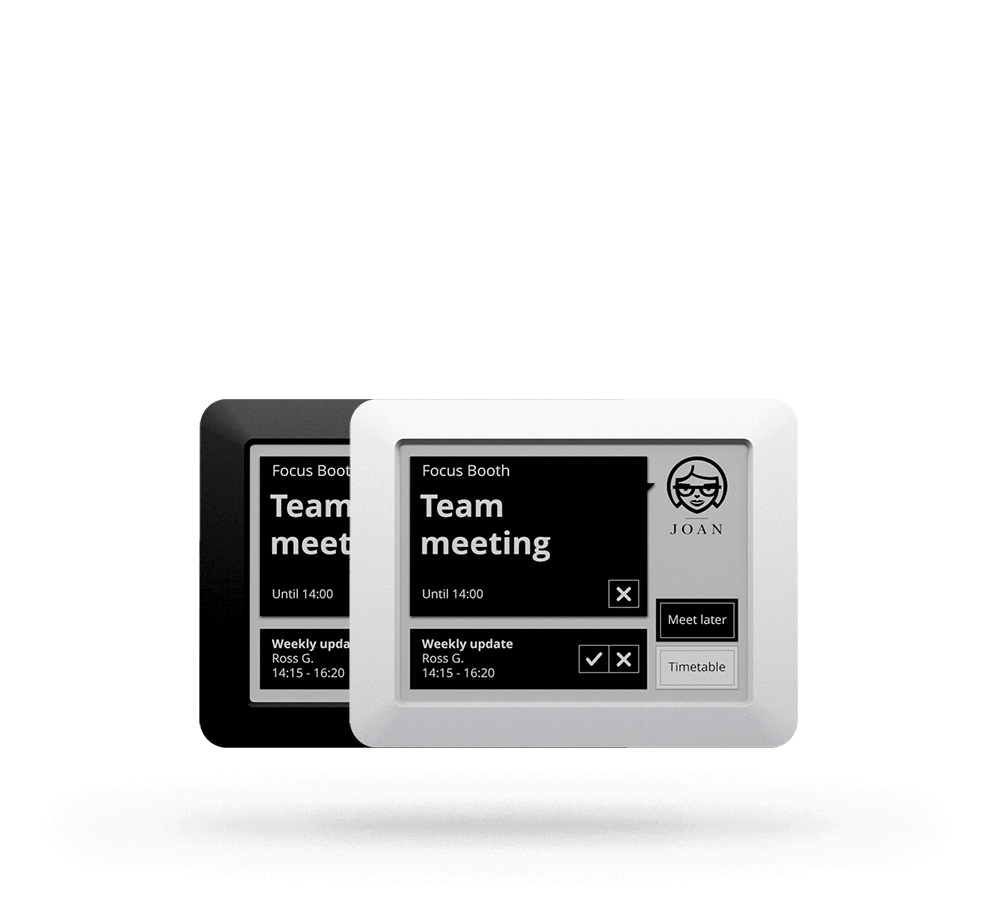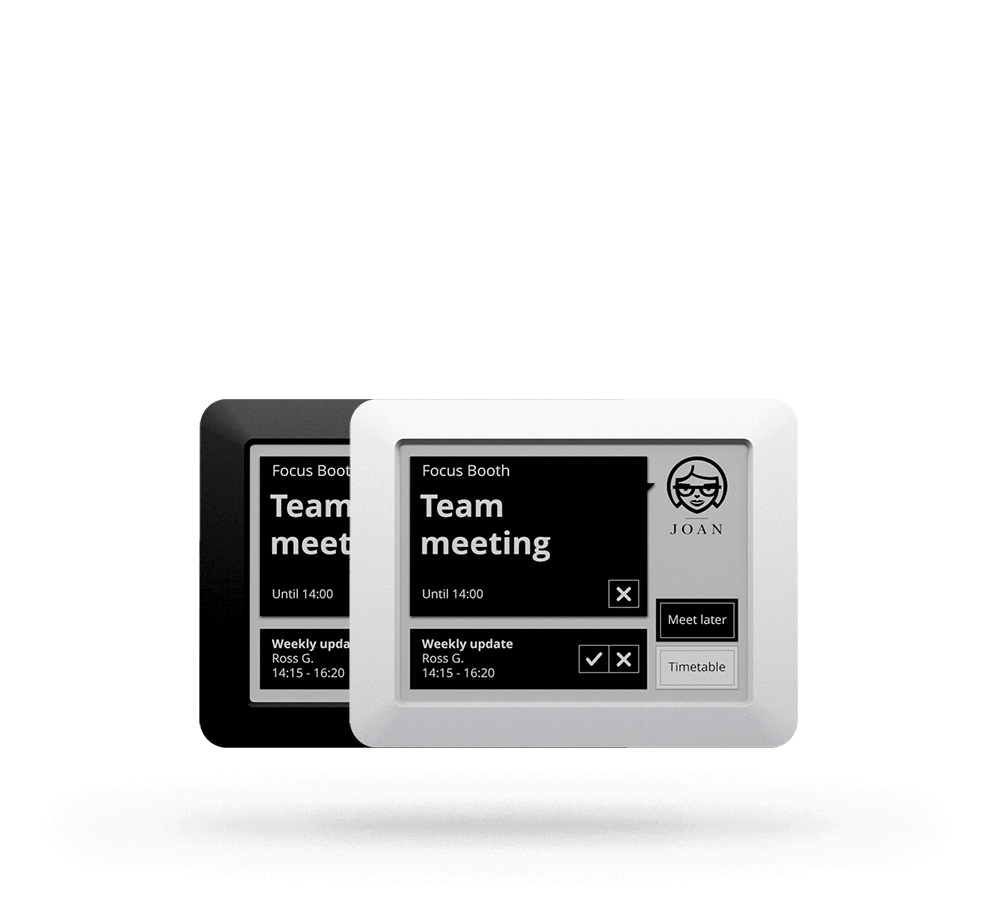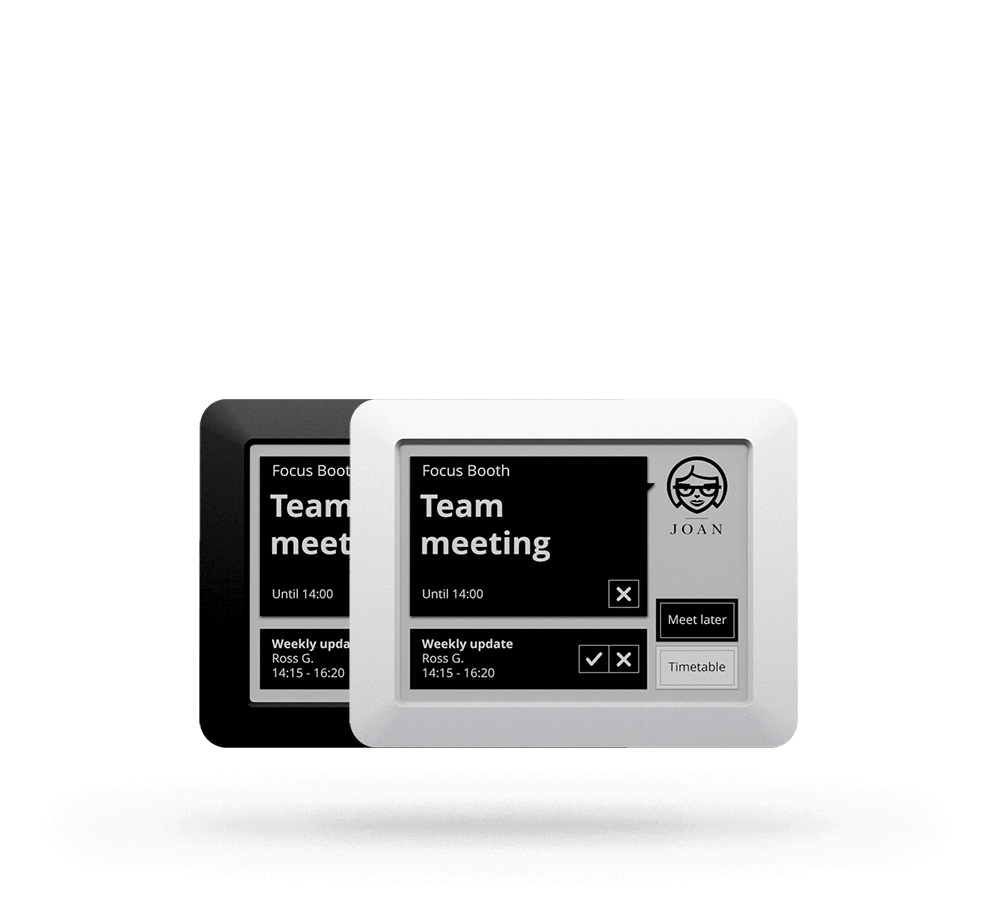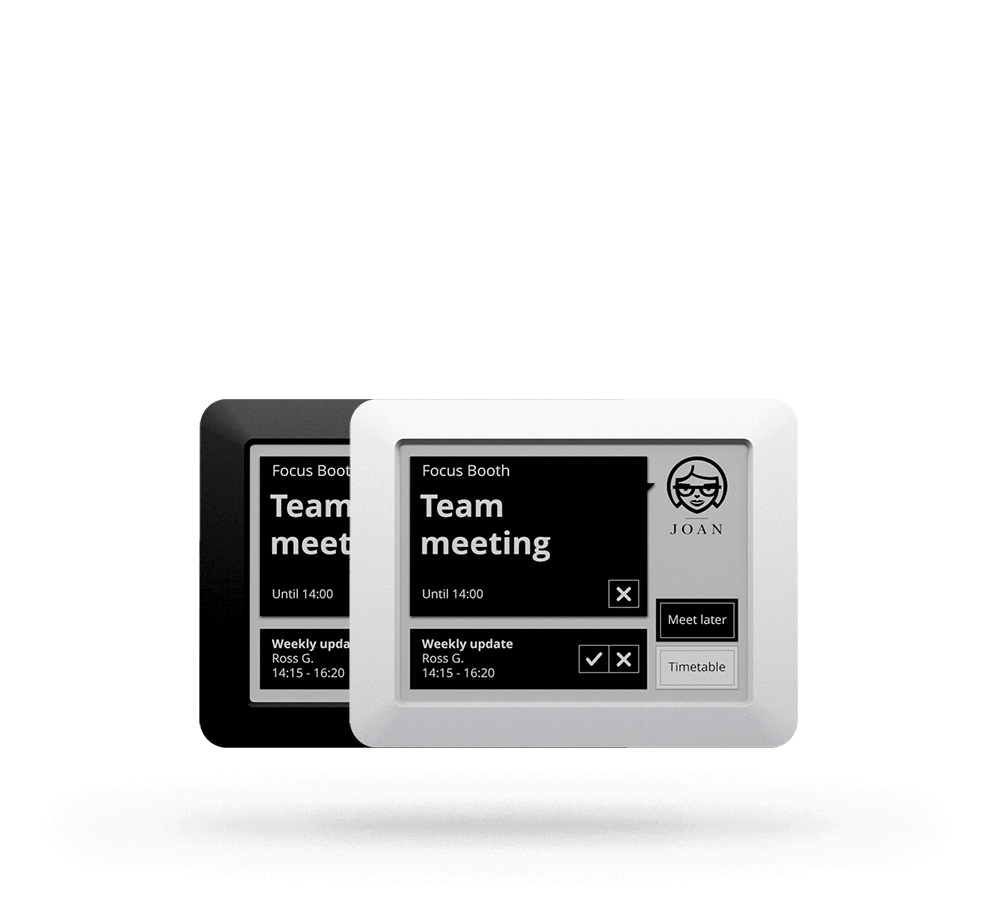 Large conference rooms and boardrooms
JOAN Premium offers the most comprehensive overview of meetings taking place in a conference room.
It is completely cord-free, does not require access to power, and offers a battery life of months.
This guest-facing, non-interactive solution was built for executive boardrooms with centralized booking to enhance the visitor experience.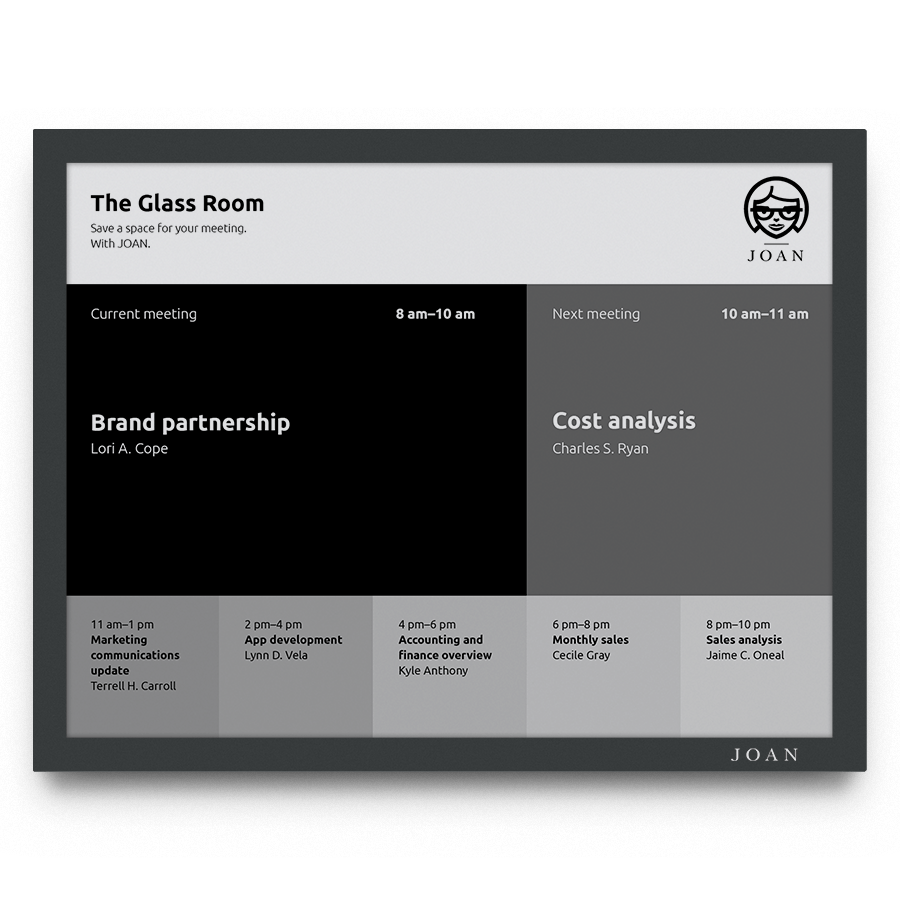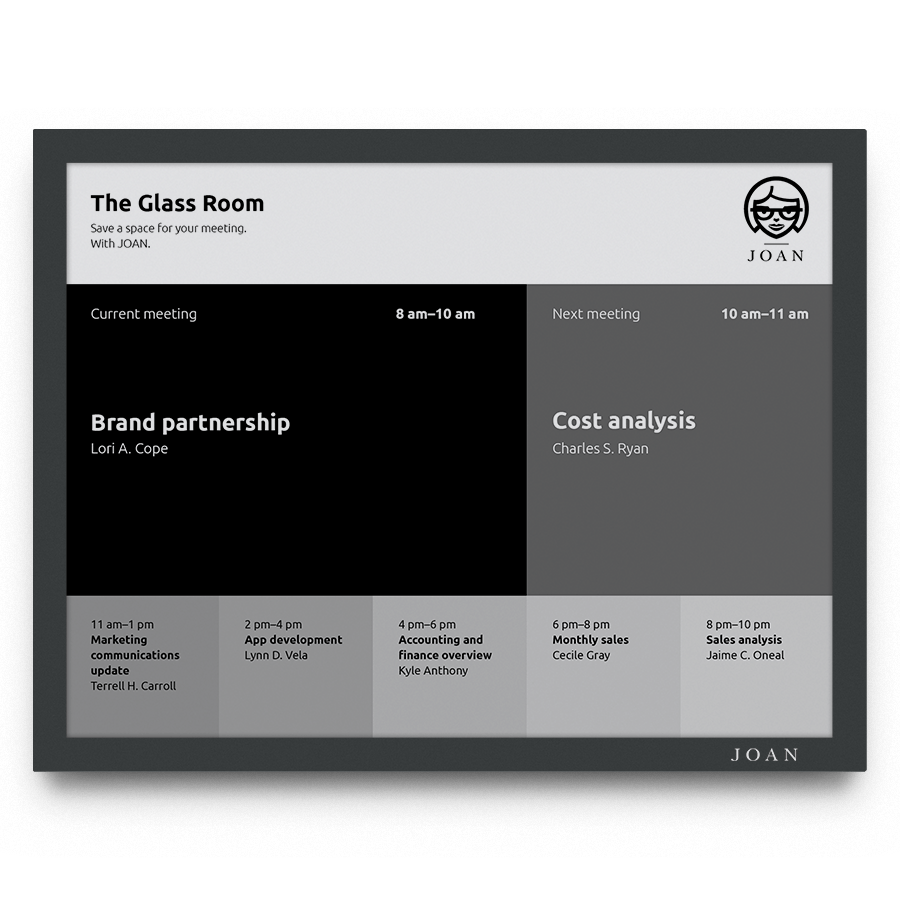 Multiple rooms with a single display
JOAN Board shows up to 9 rooms at a single glance. It signals which meeting rooms in the building are taken and which are still available to use.
Ultra power-efficient with a battery life of months and completely wireless, it can be installed absolutely anywhere – in the reception area, lobby, hall or in a shared space.
The guest-facing, non-interactive solution acts improves wayfinding for employees and visitors alike and enhances the guest experience.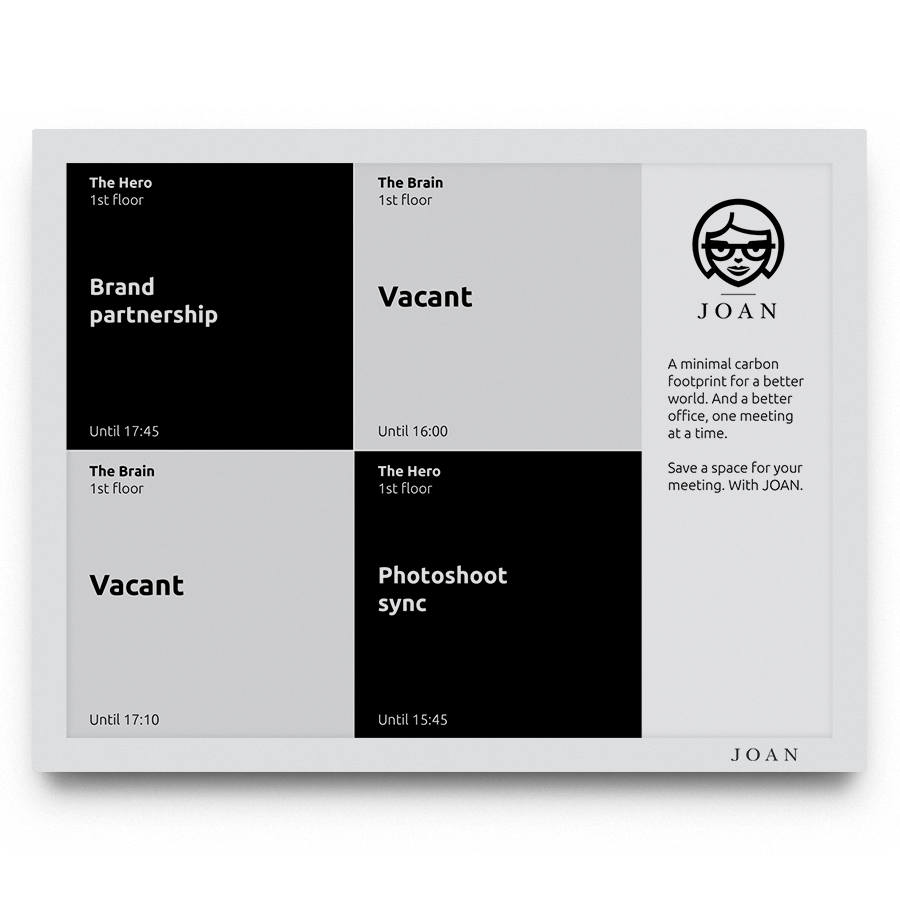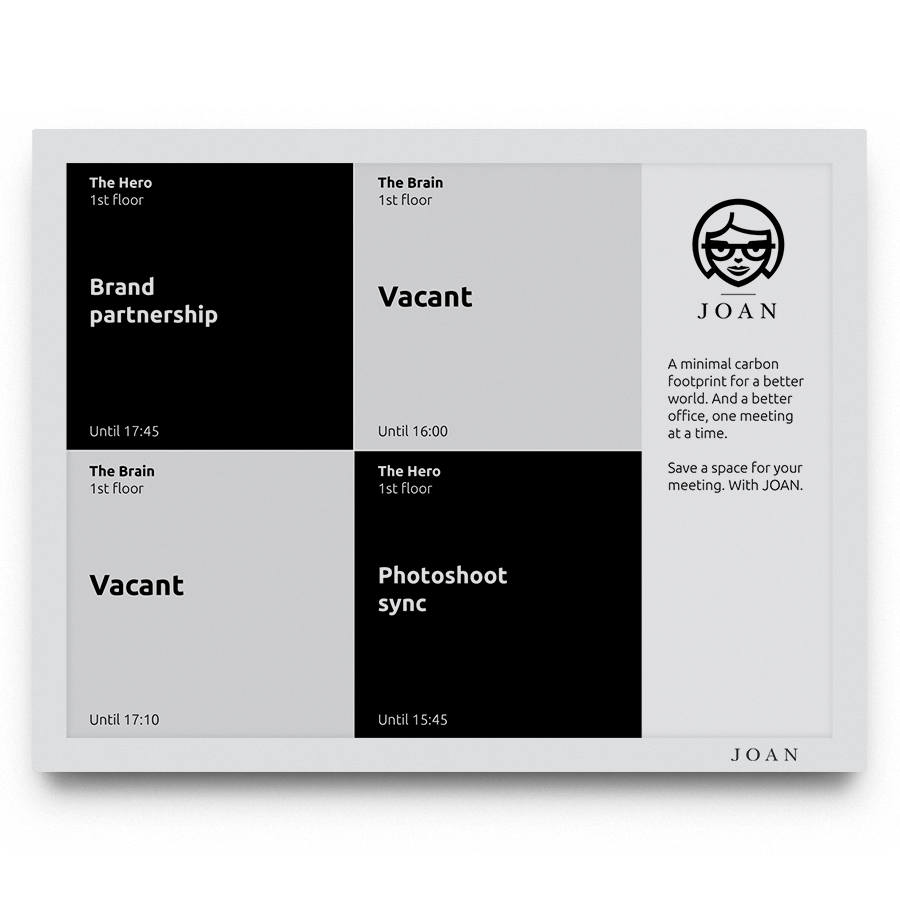 Classrooms, labs and other campus resources
JOAN Classroom shows real-time campus-wide class and event schedules and removes the need for paper-based timetables.
Due to its extreme power-efficient ePaper display with a battery life of months, there is no need to run power to each classroom.
Beside the effective on-campus communication and huge money savings, JOAN Classroom is a step towards more responsible, environmentally conscious universities.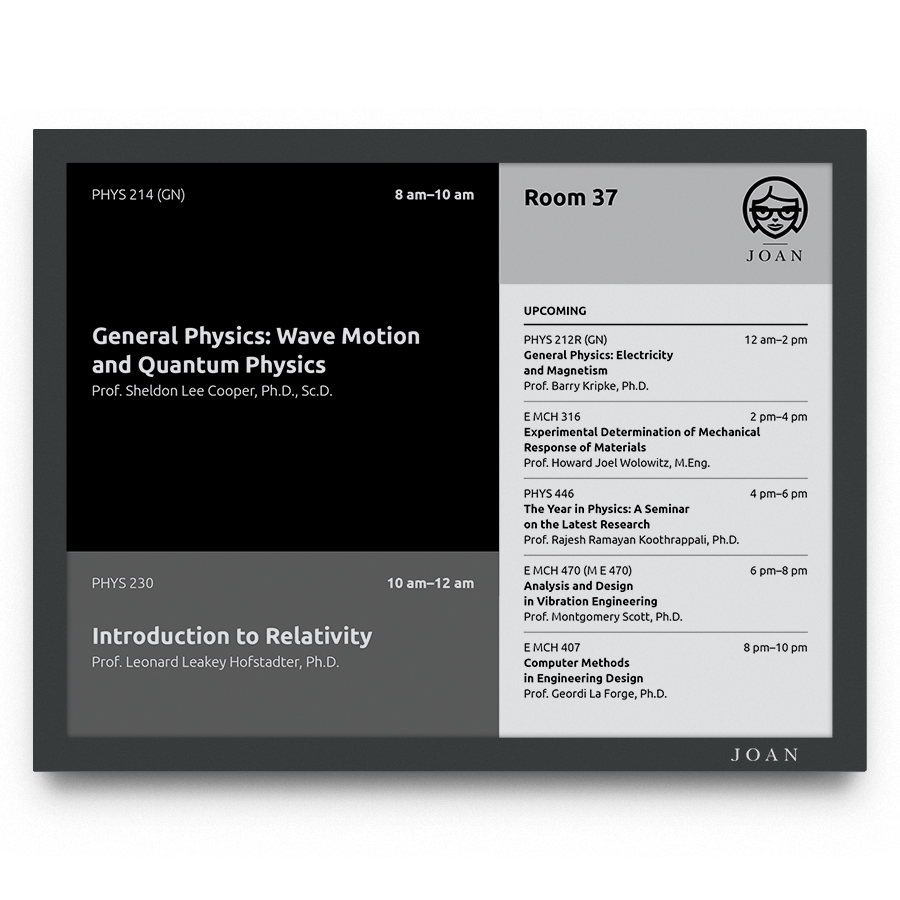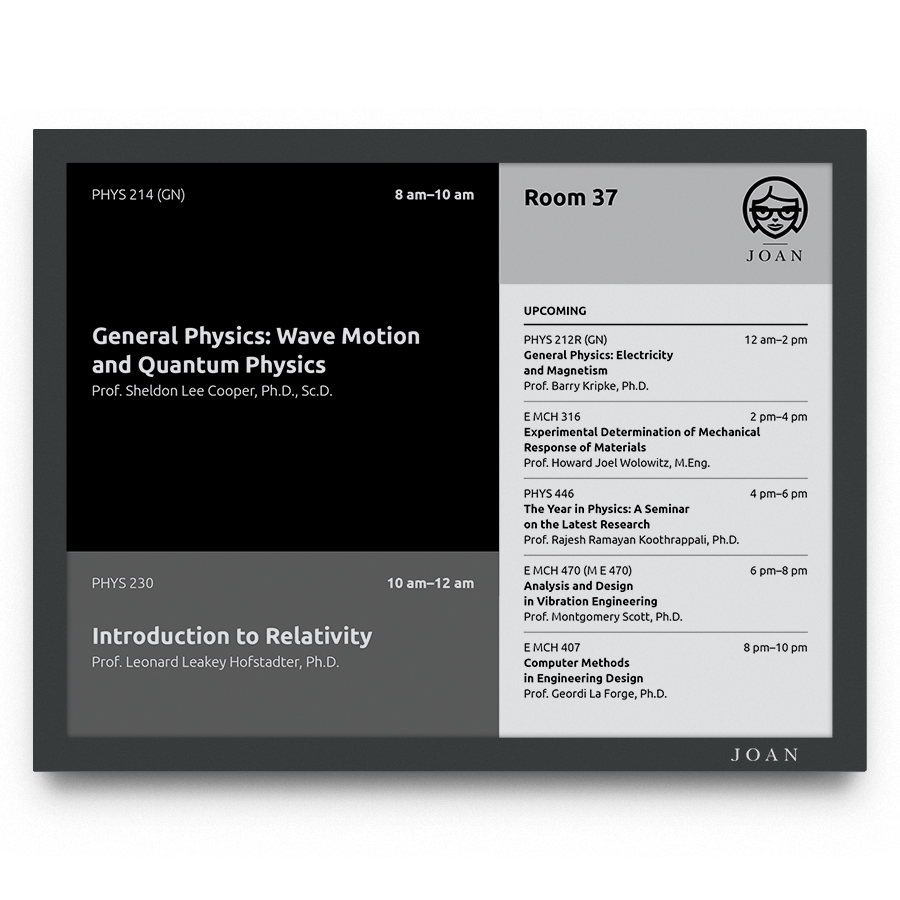 All JOAN room displays come with a Magnetic Mount already included that fixes the display onto the surface in minutes, without the need for tools. JOAN Board, Premium, and Classroom models are also VESA mount compatible by design.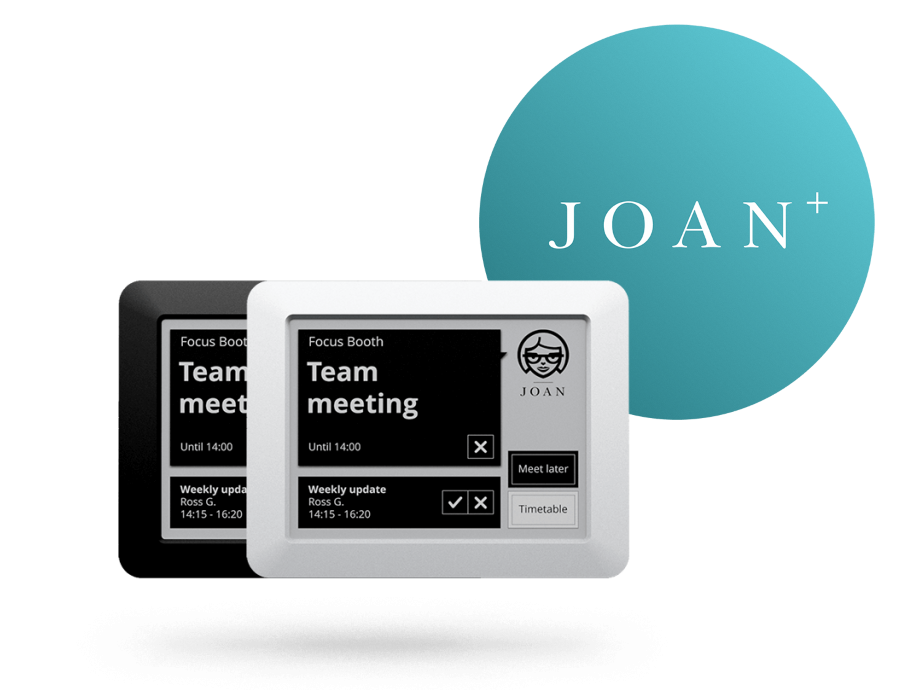 JOAN Plus – Extended Warranty*
Because anything can happen and we want you to be covered.
Extended your JOAN Warranty to 2 or 3 years by purchasing:
And we'll throw in free complimentary both-way shipping in case you need to send the devices in.
* Available for any JOAN Executive, JOAN Manager. Purchase JOAN Plus with your new JOAN or buy it within 30 days of your JOAN purchase.
What is the difference between JOAN Manager and JOAN Executive?
The JOAN Manager device supports WPA2-PSK encryption, whereas JOAN Executive supports Enterprise WPA2-EAP encryption. Both are 802.1x supported. The JOAN Executive device also offers space usage reports with advanced meeting analytics.
How is JOAN charged?
JOAN is powered by a high performance rechargeable 5400mAh Lithium­-Polymer battery that needs recharging once every couple of weeks. You can either use the enclosed Micro-USB cable or use a certified Micro-USB charger with an output rating of 5 V, 1A max. The power must be supplied from an external power supply source that complies with the requirements for Limited power source.
The charging time will depend on the power supply and varies with use. Charging a single device on 1A of current requires approximately 6 hours. Please note that if charging more than one device on a USB hub simultaneously, the distributed current of each device drops, which extends the devices' charging time. Using your laptop or PC for charging could mean that your devices might not charge fully when charged overnight. You can double check battery levels at any time by logging into the JOAN Portal and checking the device battery status.
Which calendars are supported?
JOAN connects to Google (G Suite, Google Calendar), Office 365 (Exchange Online), Microsoft Exchange (Outlook) and iCalendar (.ics).
If you use Google Calendar, make sure it's G Suite (Google Apps) for business and not a personal Gmail Calendar. Just having a gmail.com domain is unfortunately not enough.
If you use Microsoft Exchange, make sure your calendar is accessible from the internet and uses the NTLM proprietary authentication protocol.
Why does JOAN need to be connected to the server?
To be able to connect to its server, JOAN needs a strong, stable Wi-Fi connection. If the signal drops frequently, this will influence JOAN's performance and battery life. With a network that's overcrowded by too many clients and access points and a lot of interference, JOAN might have trouble ensuring smooth operation.
Is there any data stored on the device?
JOAN is a thin client device, which means that all of its operations take place online. The device itself does not store any calendar data and no calendar events are permanently stored on our servers. The only data stored on the device is the data required to connect the JOAN devices to your Wi-Fi network.
Is my data private and safe?
We take your privacy very seriously and take all appropriate security measures to protect against unauthorized access or unauthorized alteration, disclosure or destruction of data. These include internal reviews of our data collection, storage and processing practices and security measures, as well as physical security measures to guard against unauthorized access to systems where we store personal data. For more information take a look at our Privacy Policy.
How is JOAN attached to the door or wall?
Because the device has no cables whatsoever, installation is a simple matter of peeling the foil off the adhesive Magnetic Mount and attaching JOAN to the wall or door. JOAN can be attached to any surface without drilling or the need for a heavy, costly installation. You can fix JOAN on any firm surface you want; glass, wood or brick, it will stick. As long as your chosen spot is clean, isn't uneven or bumpy and your plaster isn't peeling or flaking off due to a number of repaints, you're good to go.
Before attaching the magnet, clean your chosen surface with rubbing alcohol or water to get rid of any grease. Don't use cleaning agents; they'll weaken the adhesive. Then, take off the top magnetic strip from the back of the device and peel off the foil. Press the magnet against the chosen surface horizontally and smooth the surface of the magnet with your hand, pressing firmly at every point. Allow for 30 minutes before attaching JOAN to the magnet. This way the adhesive will properly stick to the wall and Joan will stay fixed in place. Attach JOAN to the door or wall and easily detach it at any time to charge.
How does the cloud subscription service work? Can I cancel my subscription?
We offer a cloud subscription for the fastest and most hassle-free out-of-the-box experience for our customers that might not have dedicated in-house IT. This means that you don't have to worry about server setup and maintenance. All you have to do is connect your JOAN device with the calendar solution your organization is using, and we'll take care of the rest, making sure you always have the best JOAN experience.
A monthly price of €8.99 per JOAN Manager or JOAN Executive is charged to host JOAN on our server infrastructure in the cloud, whereas the cloud subscription for JOAN Board, JOAN Premium and JOAN Classroom is €14.99 per device.
The billing details are entered during the process of onboarding when connecting JOAN to your calendar (after selecting the type of hosting). You can edit your billing details at any time, by logging into the JOAN Portal and selecting Settings > Subscription and billing details.
You can switch from the cloud to on-premises hosting, which is free, at any time and run JOAN on your own server infrastructure. On-premises hosting is ideal for customers that have an established in-house IT department and probably already run a number of internal servers or for customers that do not want to use the Software as a Service (SaaS) approach.
Please note that deploying JOAN on your own server infrastructure requires advanced IT skills, as well as experience with server deployment and management.
How can I make a purchase?
The JOAN Store accepts payment via PayPal and most major credit cards such as Visa®, MasterCard®, and American Express®. All credit card information you provide to our server is fully encrypted and secure. If you prefer to pay via a direct bank transfer, contact us at [email protected] and we'll forward a quote to you.
JOAN is the most power-efficient meeting room system in existence. 99% more power.
Huge energy savings. Extreme battery life. The quiet elegance of electronic paper.