Meet the office heroes.
Compare Joan 6 and Joan 13. Discover their similarities, differences and features.
The simplest solutions for the modern workplace.
Joan 6
For meeting rooms, huddle spaces, desks, office pods.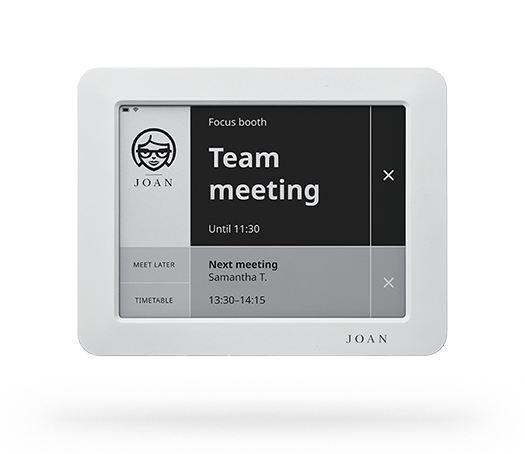 Joan 13
For large conference rooms, boardrooms, lobbies.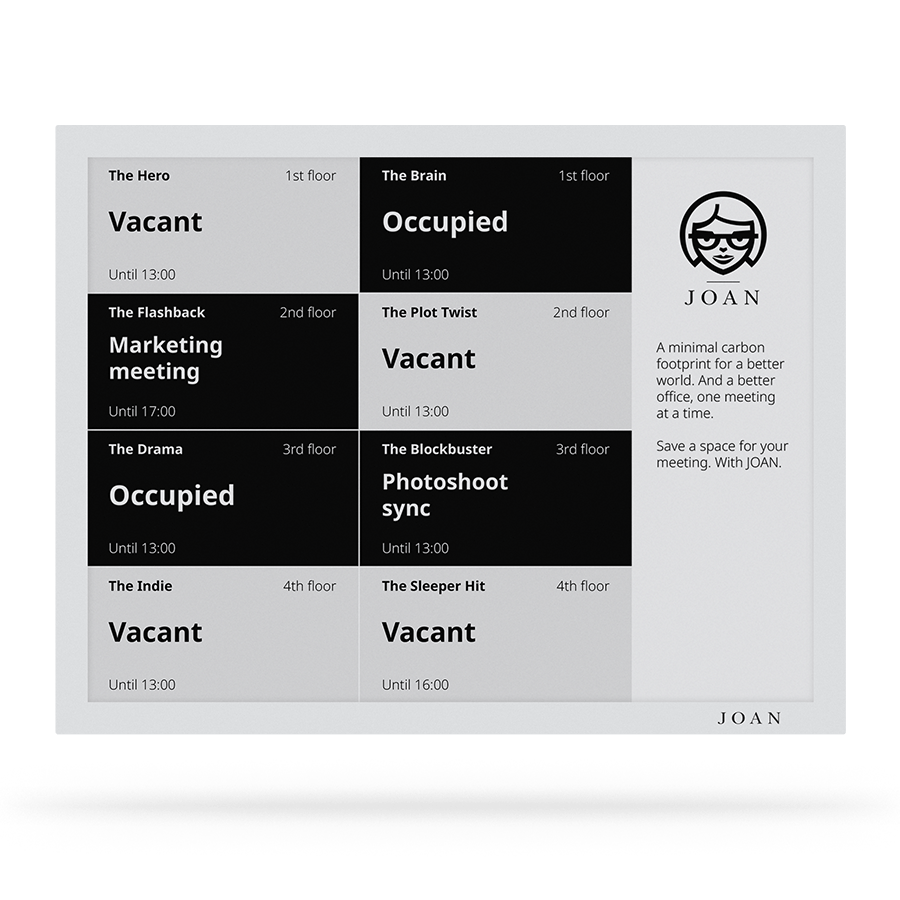 Up to 3-months battery life
Up to 1-year battery life
FUNCTIONALITIES
Real-time booking
Hot-desking
Custom content
FUNCTIONALITIES
Room grid
Team Grid
Schedule board
Custom content
Free express shipping included (1-2 weeks).

30-day money back guarantee.

Includes standard 1-year warranty.
Two devices. Four functionalities.
Choose a solution tailored to your office needs. You can switch between functionalities at any time.
Frequently asked questions.
We know you are not afraid to ask, but here's a list anyway.
What is the difference between Joan 6 and Joan 13?
Joan 6 is used for booking meeting rooms, huddle spaces, workstations, and has a 6'' touch screen. With its touchscreen, Joan 6 supports real-time booking and hot-desking. Joan 13 doesn't have a touch screen, however, it's screen size of 13'' is perfect for large conference rooms, boardrooms, and anywhere else you need an overview. Joan 13 supports the team grid, room grid, schedule board, parking, and custom content.
Does Joan work with my personal calendar?
Joan connects to Google Calendar (G Suite), Office 365, Microsoft Exchange (Outlook), iCalendar (.ics).
If you use Google Calendar, make sure it's G Suite for business and not a personal Gmail Calendar. It can be connected to your personal calendar, although it's best used with the G Suite.
If you use Microsoft Exchange, make sure your calendar is accessible from the internet and uses the NTLM proprietary authentication protocol.
Does Joan need a constant Wi-Fi connection?
To be able to connect to its server, Joan needs a strong, stable Wi-Fi connection. If the signal drops frequently, this will influence Joan's performance and battery life. With a network that's overcrowded by too many clients and access points and a lot of interference, Joan might have trouble ensuring smooth operation.
Does Joan store data?
Joan is a thin client device, which means that all of its operations take place online. The device itself does not store any calendar data and no calendar events are permanently stored on our servers. The only data stored on the device is the data required to connect the Joan devices to your Wi-Fi network.
Is my data private and safe?
We take your privacy very seriously and take all appropriate security measures to protect against unauthorized access or unauthorized alteration, disclosure or destruction of data. These include internal reviews of our data collection, storage and processing practices and security measures, as well as physical security measures to guard against unauthorized access to systems where we store personal data. For more information take a look at our Privacy Policy.
How is Joan attached to the door or wall?
Because the device has no cables whatsoever, installation is a simple matter of peeling the foil off the adhesive Magnetic Mount and attaching Joan to the wall or door. Joan can be attached to any surface without drilling or the need for a heavy, costly installation. You can fix Joan on any firm surface you want; glass, wood or brick, it will stick. As long as your chosen spot is clean, isn't uneven or bumpy and your plaster isn't peeling or flaking off due to a number of repaints, you're good to go.
Before attaching the magnet, clean your chosen surface with rubbing alcohol or water to get rid of any grease. Don't use cleaning agents; they'll weaken the adhesive. Then, take off the top magnetic strip from the back of the device and peel off the foil. Press the magnet against the chosen surface horizontally and smooth the surface of the magnet with your hand, pressing firmly at every point. Allow for 30 minutes before attaching Joan to the magnet. This way the adhesive will properly stick to the wall and Joan will stay fixed in place. Attach Joan to the door or wall and easily detach it at any time to charge.
You may also like
Firmly secure your device, get an additional magnetic mount, or explore other products.