The Pros And Cons Of Desk Sharing In The Modern Workplace
In a post-pandemic world, companies have had to relook at how workplaces are set up, and how they operate. This has led to innovative structures and practices implemented in offices across industries to increase productivity and cut down on overhead costs.
One of the big trends that have come out of this is desk sharing, also known as 'hot-desking'.
While desk sharing has proven to be beneficial to both employees and employers, it does come with some challenges. We explore some of the pros and cons of desk sharing in the modern workplace.
What Is Desk Sharing?
Desk sharing in an office means that employees do not have a permanent, designated desk. Instead, employees that come into the office will reserve a particular desk each day, for that one day only.
Companies may differ slightly in their systems to allow employees to reserve a desk for different periods, like a few hours, or a whole week. But most commonly, the system is used to reserve a desk for one day at a time.
Some companies use a formal booking system, like Joan's desk reservation system, that allows employees to book a specific desk for a certain day. Others simply allow employees to come in and find an empty desk when they arrive.
However, the latter approach can result in wasted time spent looking for an open desk. In addition, employees may come into the office only to find that there are no desks available.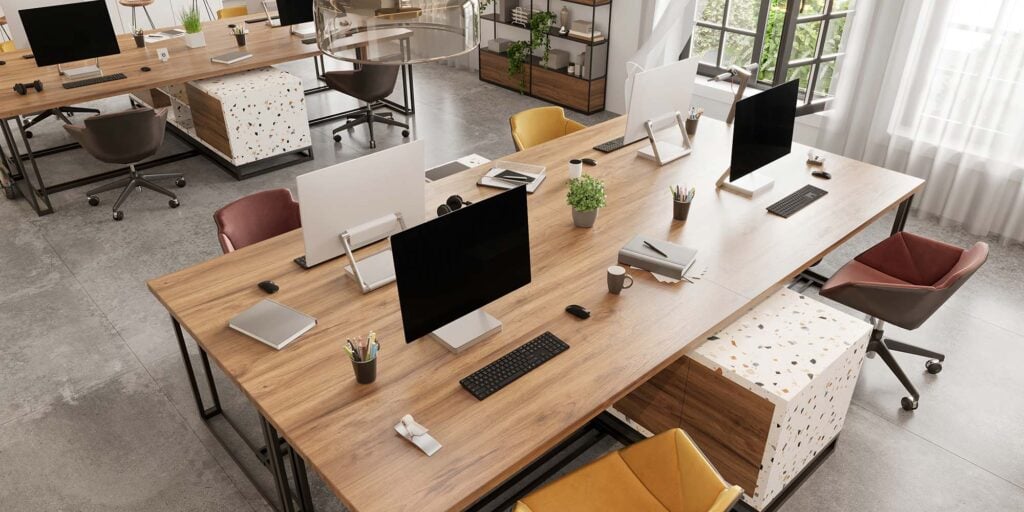 The Pros Of Desk Sharing
Optimal Use Of Space
Desk sharing allows companies to cut down on desk space and use desks more economically. They can keep the number of desks down to a minimum to cater to what their workforce needs. This cuts down on real estate costs and office furniture expenses.
Taking this approach is especially beneficial for companies working with a hybrid work-from-home model that either allows the employees to choose when they come into the office or that have schedules to rotate employees coming in.
Flexibility
This setup provides flexibility for employees. They can find a desk that suits their working needs for the day.
For example, if there is a group project that needs to be done, members of that group can find desks next to each other for the duration of the project.
Minimal Clutter
When an employee has a permanent designated desk, there can often be a buildup of clutter over time. Whether it's mugs, old documents, stationery, or food products, a cluttered workspace can be distracting.
With desk sharing, employees have to pack up their belongings every day.
Increases Sociability
In larger offices, having a permanent desk often means that employees will form closer bonds with those situated at desks around them.
Desk sharing allows workers to interact with different people each day. This helps build social skills and forms a closer workforce overall.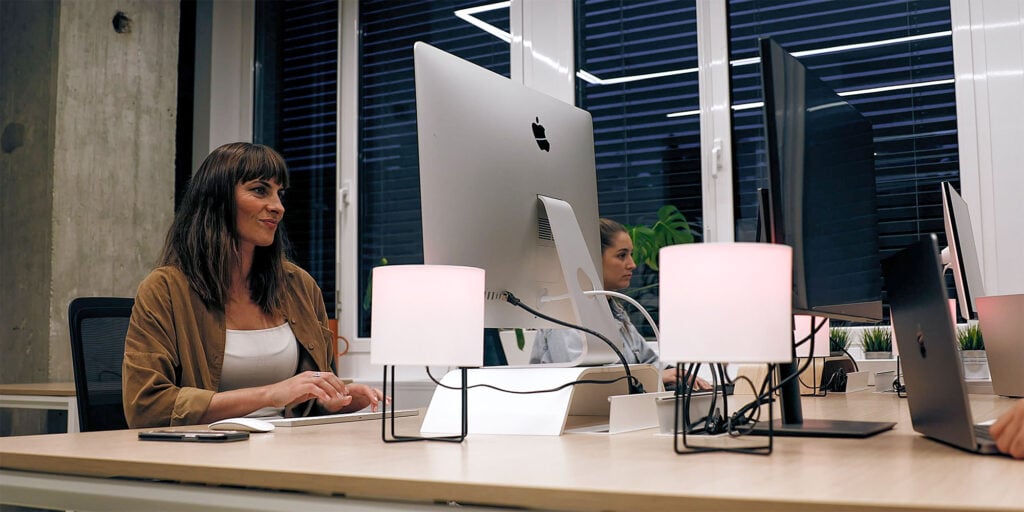 The Cons Of Desk Sharing
No Personal Touches
Having a permanent desk means employees can add their personal effects to the space, such as photographs, posters, calendars, etc.
Desk sharing eliminates this, as employees have to pack up every item by the end of the day. This may make the space feel more unfamiliar.
Time Wasting
Arriving at the office and going to a permanent desk is usually effortless. Your employees will already have all their necessities permanently set up there.
With desk sharing, there is a process of finding an available desk, unpacking belongings, and then acclimatizing to the new environment. This can take up some time that could have been used for more productive means.
Lack Of Cleanliness
Sharing desks can be challenging when it comes to hygiene, as the desk will need to be properly sanitized before someone new takes over it.
Cleaning products, such as sanitizers and wipes, should be provided and employees should be instructed to clean the desk when they're finished using it.
Poor Adaptability
In some instances, desk sharing can lack adaptability. For example, an employee may receive a last-minute assignment that requires brainstorming or group work.
However, if they have reserved a desk that has occupied surrounding desks, they may not be able to congregate with team members in the workspace as they may clash with other employees who need a quiet area.
Conclusion
Desk sharing may have some challenges, but for the most part, it is a modern technique that encourages minimalistic practice in the office and saves money and resources in the long run.
It also allows flexibility for the employees to move around to suit their working needs and encourages more socializing in the workplace to form a closer workforce.
If you're interested in implementing desk sharing in your workplace, be sure to check out Joan today.
Frequently Asked Questions