How To Book A Conference Room In Outlook
Booking conference rooms doesn't have to be a difficult or time-consuming process. With the right meeting room booking system for Outlook, you can easily create and manage bookings through your Microsoft calendar.
There are a couple of solutions for booking conference rooms in Outlook. And this approach to room booking is convenient, as it syncs up your calendar information to help you and your team stay more organized. Room reservations become easier to manage and you don't have to worry about missing meetings or making double bookings.
In this quick guide, we'll cover how to book a conference room in Outlook, including what software you can use to create and manage bookings from any device.
Booking Conference Rooms In Outlook
If your organization uses conference rooms, there's a smarter way to book them than using time-consuming booking request forms. You can use an Outlook room booking system (if you're a Microsoft Outlook user) to easily manage your bookings directly in your calendar.
Booking conference rooms in Outlook is a great way to stay more organized and stay on top of all your calendar appointments. With this feature, you can set up Microsoft Outlook and your connected calendar with the available meeting rooms that you manage. This lets you easily manage your conference room bookings through one convenient platform.
The best way to do this is to use a dedicated room booking solution like Joan. This makes it easy to manage your workplace and reserve the most suitable spaces for meetings and work.
Joan's meeting room management system lets you connect meeting rooms in Microsoft Exchange and Microsoft 365 to make bookings more convenient and keep your calendar in sync.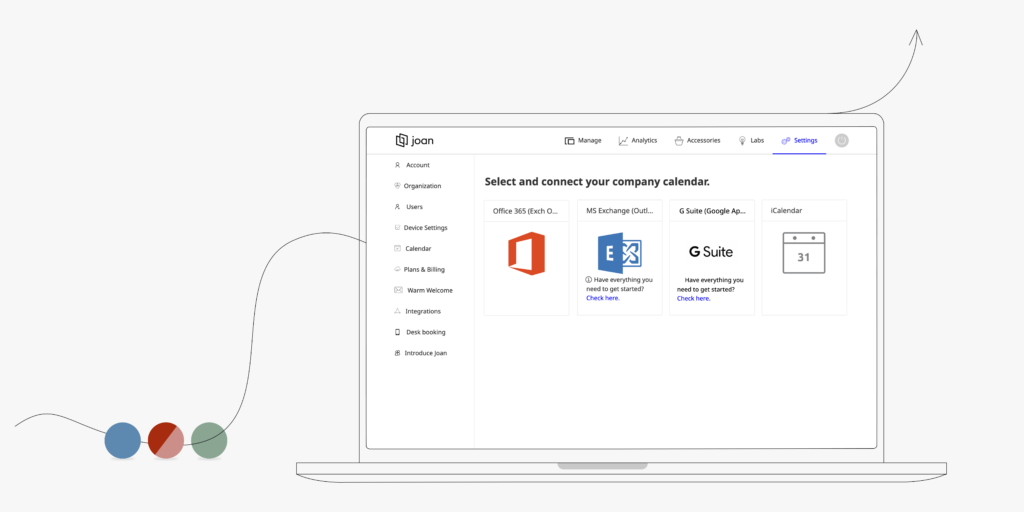 How To Book A Conference Room In Outlook
With the right Outlook conference room scheduling software, booking a conference room through Outlook is easy.
Let's break down how you can do this.
Booking A Room In Outlook Using Joan
Joan is a meeting room reservation system that syncs with the calendar you use. This means you can easily schedule meetings through the tool, which will be automatically added to your existing calendar.
To do this, all you need to do is connect Joan to Microsoft Exchange or Microsoft 365. Once the two platforms have been integrated, you can simply access the room finder tool in Outlook (updated with your rooms) and make your booking. This will sync up with your Microsoft Outlook.
Before you make a booking, you can check the room timetable and access other information about the room. This helps you find the right conference room for your needs. You could book the room straight away and add it to your timeslot. You can also book multiple rooms at once.
Because Joan is integrated with Microsoft Exchange, the system will automatically update your communication tools (Outlook). This enhances communication and collaboration across your team. And because all of the information is centrally located, you don't have to worry about things like double bookings.
How To Book A Conference Room On Different Devices
Joan offers a convenient reservation system that can be accessed from all devices. This means you can use it to book conference rooms through Microsoft Outlook, your desktop, or your mobile device. You can also use the platform through our dedicated meeting room booking hardware.
You can mount Joan devices directly outside conference rooms or on the meeting room doors. This is all connected with your Joan booking system (and Outlook), so any bookings made through these devices automatically sync up to the room calendar. This means that conference room availability is always up to date for everyone.
The software fully integrates with your booking calendar and room manager. This makes it easy to find and secure a room, as well as manage your booking, from any device (and from anywhere).
Benefits Of Using The Right Outlook Room Booking Solution
While you could book conference rooms the old-fashioned way, using a special room booking software solution offers a few unique benefits.
Enhances Hybrid And Remote Work
The right room booking tools make it easy to book conference rooms remotely. This can be a game-changer for hybrid teams.
If your team is separated, or if you're not in the office, you can still make the room booking and keep all participants up-to-date. This can be done from anywhere, at any time.
Easier Calendar Management
Using the right room booking solution makes admin a lot easier. With one of these tools, you can easily find the right time slot, make a booking, and your calendar (and the participants' calendars) will be automatically updated. This keeps you more organized and saves you time in planning out a conference room booking.
Not only this, but it also helps keep your whole team more organized. You can use the booking tool to update everyone about your meetings and share important meeting details and room booking details. In addition, having a system like this ensures you avoid double bookings and meeting interruptions – all through a single, integrated platform.
Managing Your Room Booking
It's not only about making the booking. When using a solution like Joan, managing room bookings couldn't be easier with your existing Microsoft Outlook system.
Because Joan integrates with your calendar and communication system, any changes you make automatically update and notify attendees. Joan takes care of all the meeting admin for you to ensure everyone is always up to date and knows the details of their meetings.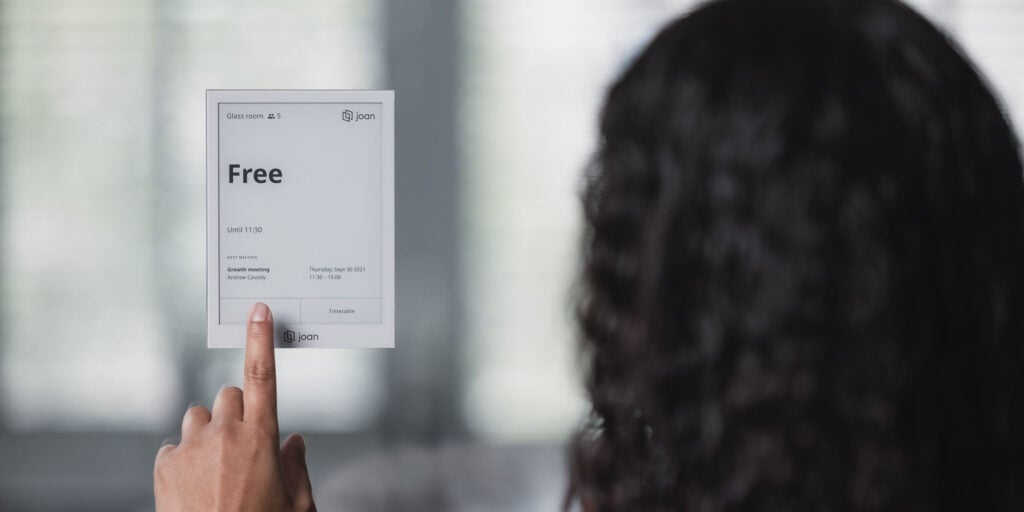 In Summary
Knowing how to reserve a room in Outlook is a pretty easy process, as long as you're set up with the right booking system. This makes managing your calendar a lot more efficient.
Joan's meeting room scheduling software for Outlook can be used on your desktop or mobile device. Simply log into one platform (single sign-on available), and create and manage conference room bookings through a simple interface. This will automatically be updated on your calendar and shared with booking attendees. Staying more organized just got a lot easier!
Frequently Asked Questions