Digital Signage For Conference Rooms
Are you sick and tired of time, energy, and resources being wasted by the intricacies of conference room signage and management?
Well, forget about that crumply and scribbly hand-written paper scheduling and signage. The solution to your problems comes in the form of digital meeting room signage.
Read on to find out more about digital signage for conference rooms. Once you've tried it, you'll never look back!
What Is Digital Signage For Conference Rooms?
Every office space requires some form of signage outside each conference room. This signage helps employees to know which conference rooms are being used, the time slots they are in use, and what they are being used for.
But why waste precious time, cabinet space, and personnel costs on daily updates on a spreadsheet or an outdated clipboard-fastened sheet of paper?
Give your receptionist a break from this unnecessary admin. Rather install digital Joan devices around your office for a more streamlined conference room booking experience for all.
Joan is a battery-powered e-paper device that you can mount directly outside each conference room or on the conference room door. Joan devices are wireless, meaning you can mount them using magnets. They have a sleek, customizable design, making it your ideal meeting room digital signage solution.
Not to mention, it's sustainable Joan devices can last up to 6 months before needing a recharge, lowering your company's carbon footprint dramatically.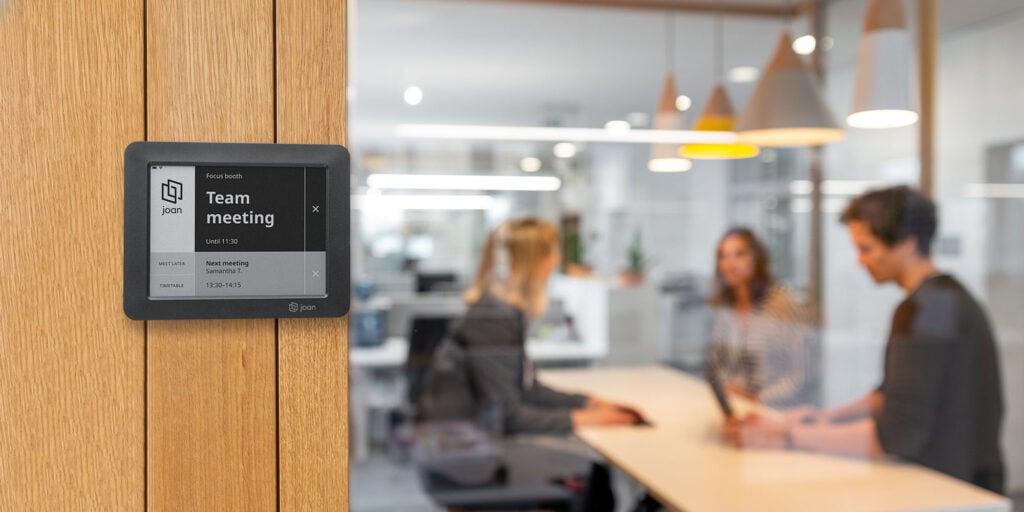 The Benefits Of Using Conference Room Digital Signage
Digital conference room signage has myriad benefits. The right digital conference room signage can streamline the way meeting rooms are managed and make booking rooms easy for your employees.
Below we take a detailed look at all the benefits of Joan's digital signage for conference rooms.
Streamline Meeting Room Management
We are all aware that efficiency is the name of the game in every office space. Joan's digital meeting room signage allows for information to flow like a river!
Often, valuable work time is wasted through meeting room organization. And it can be frustrating for employees waiting for approval on a meeting from their boss or admin clerk.
Digital meeting room signage streamlines the management process. Joan helps to not only manage real estate but also boosts company culture and morale.
You can improve employee satisfaction by allowing them to be more focused and productive. No more anxiety-provoking meeting room management hassles and confusion.
Joan's digital display provides easy-to-read and vital information. On the Joan application, employers, employees, and visitors alike can read directions, business results, organizational charts, safety information, etc.
View Conference Room Availability At A Glance
Not only is Joan's digital signage readable. It is also unobtrusive. Customize font size and design to suit your business needs, with no overstimulating and distracting glaring lights.
A digital display outside each conference room door allows anyone to view meeting room availability at a glance. These reliable devices eliminate the confusion that often results from paper signage.
For example, with Joan 6 and Joan 6 Pro, you can view and scroll through daily and weekly room schedules and availability as you're walking past a meeting room door. "Vacant" or "occupied". "Meet now" or "Meet later". Simply touch the applicable option on the screen and you're good to go.
Alternatively, if you're simply looking for a meeting room display, the Joan 13 is a non-touch solution that lets you view the availability of up to nine rooms at a glance.
Joan's digital displays also show conference room capacity and seating arrangements. Once again, this eliminates frustrating confusion by providing all important information without needing to inquire with anyone else. Everyone is always on the same digital page!
See What Rooms Are Being Used For
Admin personnel and bosses can receive immediate information through digital room signage. Joan digital signage devices display the title of each meeting, which provides clarity and enables companies to gather logistical information.
Higher-ups can monitor what work is being covered, how many meetings take place in a given period, and the length of meetings. Joan takes weekly and daily information about productivity and results from the virtual world to the real world.
Which rooms are the most popular? Why are they being used the most? Is it the layout? Is it size? And which rooms are not being used and why?
Maybe your office requires fewer conference rooms or perhaps it requires more. Joan Analytics allows you to see room usage in your office space. This enables you to make adjustments in the workplace to be made if needed.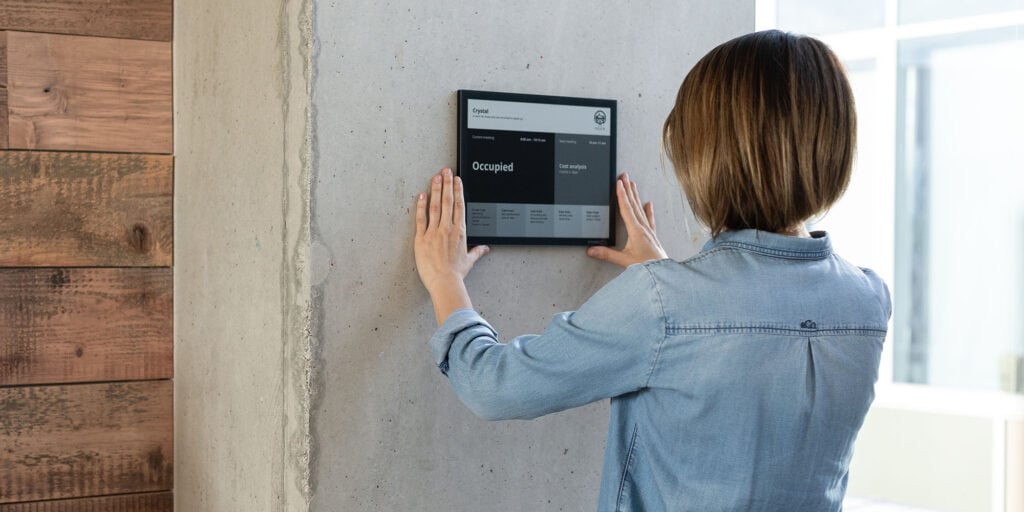 Real-Time Information (Automatically Sync Bookings)
Did we mention Joan is wireless and uses your WiFi?
Digital signage auto-syncs to any individual existing calendar application your employees (and clients) use. For example, Joan syncs automatically to Google Workspace, Office 365, Exchange, and iCalendar. What more do you need?
Additionally, each person's calendar information is shared through digital meeting management software. This translates to quickly being able to view who is available for a meeting and who is not at any specific time.
Meeting hosts can make updates in the form of booking, starting, extending, or canceling. Everyone involved will be able to access this information immediately.
Conference Door Signage Prevents Disruptions
No matter what company you manage or work for, you are certainly familiar with the awkwardness of accidentally walking in on a meeting or being interrupted during a meeting.
Research shows that it takes an average of 23 minutes for workers to regain focus after a disruption. This is a lot of time wasted. And this can truly add up over time!
Joan's digital signage solution helps to prevent these workplace disruptions. It reduces scheduling conflicts between colleagues (as well as the awkwardness and embarrassment of accidental walk-ins).
As a result, Joan's digital conference room signage and management solution helps create a more amiable workplace environment.
Digital Displays In Conference Rooms For Alerts And Notifications
As mentioned, a digital display outside of each conference room auto-syncs with each employee's calendars and mobile devices. Therefore, when rooms become released after no one checks, they are available for booking again. Joan makes meeting planning easier than ever.
It is easy to forget about scheduled meetings in this fast-paced new era. However, there is a solution. Meeting hosts can share meeting reminders or alerts for meetings running overtime with their colleagues. This helps keep everyone up to date and in the loop.
Make Your Office More Tech-Savvy
The up-and-coming generations (Millennials and Gen Z) are flooding into the workplace, joining current Boomer and Gen X employees.
Each generation has different expectations in the workplace. As such, an employer must utilize various methods to bridge the gap. Providing convenient and efficient office systems using the right technology is key.
Joan is user-friendly and efficient for both the older generations and the younger ones. With our digital signage, you can make everyone's lives easier in the office.
Conclusion
Digital signage for conference rooms has benefits that you'll surely be grateful you didn't miss out on. Joan is a seamless conference room management solution. It can help to enhance productivity, efficiency, transparency, and morale in your workspace.
Contact us to learn more about how our flexible, easy-to-install, and customizable devices can help streamline your office environment.
Frequently Asked Questions
Why use digital signage?
Digital signage is a form of electronic display that is used to communicate information to a specific audience. There are several reasons why an organization might choose to use digital signage, including:
Dynamic and interactive content: Digital signage allows for the display of dynamic and interactive content, such as videos, images, and animations, which can be updated and changed in real-time.
Increased engagement: Digital signs can be designed to be interactive, which can increase engagement and provide a more engaging experience for viewers.
Real-time updates: Digital signs can be updated in real-time, which allows for timely and relevant information to be shared with the audience.
Cost-effective: Digital signage can be less expensive in the long run than traditional forms of advertising, such as printing posters or brochures.
Increased efficiency: Digital signs can be used to automate and streamline processes, such as displaying wait times, meeting room availability, or even providing direction.
Measurable: Digital signs can be linked to analytics software, which can provide detailed information about how the signs are being viewed and interacted with.
Flexibility: Digital signs can be used for different purposes such as advertising, corporate communication, room management, or wayfinding, and can be easily adapted to different settings and environments.
What is a digital signage display?
A digital signage display for room management is a modern solution that allows businesses to manage and display room schedules, availability, and updates in real-time. This innovative technology enables organizations to streamline their scheduling processes, reducing administrative time and costs associated with managing meeting and conference rooms.
Why is digital signage important?
Using a digital signage display for room management can improve workplace productivity and reduce scheduling conflicts. With clear, real-time information on room availability and schedules, businesses can better manage their space and resources, ensuring optimal utilization of meeting rooms and facilities. As a result, businesses can maximize their operations and increase their overall efficiency.