Great products create happiness.
Thousands of companies already trust JOAN with their meetings.
Cutting edge innovation powered by experience.
After a decade of research, epaper signage development and leading global deployments in areas where displaying digital information was completely unimaginable, Visionect has placed its ultra low power digital displays into the office environment. Meet JOAN, the only room booking system built bottom-up specifically for meeting space reservation.
JOAN disrupted the market with its extreme battery life, simple installation with zero costs and the quiet elegance of electronic paper, which earned it the Red Dot and CES Innovation awards.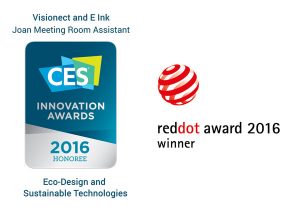 Simple to use and easy to manage.
The JOAN product line has been developed in close collaboration with its early users, from small to Fortune 500 companies. It has been an absolute pleasure working with our customers all around the globe.
Hassle free, from installation to managing, to use, and all the way down to charging. A cost free installation without wires, a centralized overview in a web-based dashboard, an intuitive interface based on customer feedback, and automatic low battery email alerts that remind you to charge once every couple of weeks. A complete no-brainer.
For a minimal footprint.
JOAN is by far the greenest, most sustainable room booking system on the market, offering unparalleled energy efficiency and a battery life measured in weeks. Save 99% more energy and contribute to a better future by going epaper green.
A minimal carbon footprint for a better world.
And a better office, one meeting room at a time.