JOAN Premium.
Meeting room management has never had this much power.
JOAN Premium offers the most comprehensive overview of meetings taking place, right where you need it most – at the meeting room door.
An elegant, ultra-reliable device that feels at home in any interior.
The greenest office tech, 99% more power efficient than any other solution on the planet. Absolutely no wires, zero-cost installation and a battery life of an incredible 12 months. Integrates with mainstream calendars.
The latest product in the award-winning line of JOAN meeting room scheduling solutions. Perfect for high-end executive boardrooms with centralized booking.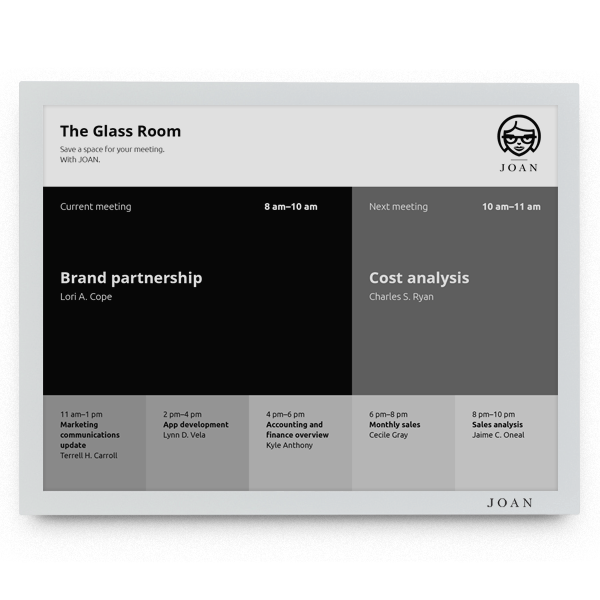 This is JOAN Premium.
13-inch non-touch screen. See the meeting currently taking place, the next one coming up, and the 5 meetings that follow it. 
Paperlike. No glare, no light pollution.
High quality anodized aluminum casing. Anti-reflective, high transmissive glass.
No wires. Up to 12 months of battery life.
Magnetic Mount included. VESA mount compatible.
The greenest office tech, 99% more power efficient than other solutions.
No wires. An easy, zero-cost installation. Even on glass or wood.
Works with popular calendars: G Suite, Office 365, Exchange, iCal.
Quiet design.  Distraction-free elegance of electronic paper at its best.
Greenest solution. 99% more power efficient than other displays.
Works with your company calendar.
Connect JOAN Premium to your calendar through Wi-Fi and display the schedule of each meeting room. Support for:
G Suite (Google Apps, Google Calendar)
Office 365
Microsoft Exchange 2010+ (Outlook)
iCalendar (.ics)
Wire-free and power efficient. 99% more efficient, that is.
JOAN Premium is completely cord-free and does not require access to power.
Superb energy-efficiency and a battery life of months make it the greenest office tech around, using 99% less energy than LCD or LED.
Topping off the winning combination is JOAN Premium's unparalleled simplicity of installation and use.
Visionect.
Powering a new era of innovation.
__________________________
Visionect is the world leader in deploying digital signs in environments impossible before, setting a new standard in versatile, energy-efficient displays. The result of a decade of market-leading expertise, Visionect technology is unparalleled in versatility, ultra-low power consumption, ease of installation and simplicity of use.